You're Human Like the Rest of Them / Not Counting the Savages/ Down Red Lane
B S Johnson
Finborough Theatre
–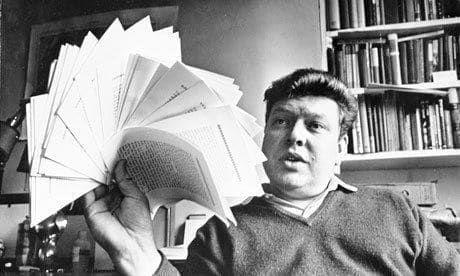 This is a triple bill of short plays dating from the early 1970s by experimental British writer B(ryan) S(tanley) Johnson.
He caused quite a stir in literary circles with his novel Albert Angelo which had holes cut through some pages so that readers could quite literally see through to later parts of the story and then with The Unfortunates which was published unbound as 27 separate sections to be read in any order you chose except for those marked first and last. He equally looked to subvert the usual forms in his work for theatre and film, including these plays.
Johnson killed himself in 1974, aged 40, partly due to depression at his work's failure to find commercial success. Jonathan Coe's 2004 biography, academic attention and the issue of some of his films on DVD has created more recent interest but he still remains largely unknown. This is a rare opportunity to see his stage work in performance.
Not Counting the Savages was directed by Mike Newell for BBC TV in 1972 but this production is its stage première. An elderly lady (Sarah Berger) has been to the cemetery to visit her son's grave with fresh flowers and to keep it tidy and while there has had a shock. On the other side of a wire fence but right by her, a man has exposed himself. Returning home, she expects sympathy but her husband is too wrapped up in his own world to be bothered and tells her, "you've seen one before".
Her daughter Rosa (Emma Paetz) seems more sympathetic but it's a ploy to have a go at her dad. Dad starts to go on about a "honeypot trap" he encountered ("she wasn't even young or good looking") on a business trip to the Soviet Union but his wife says he's never been to Russia.
When her living son Jerry (Bertie Taylor-Smith) turns up, he offers interest but not sympathy. It seems he's set on making soft porn movies: he laps up the details. "He was about your age, he kept saying filthy things," she tells him. What was worse, he was talking to someone else: "he called him John Thomas."
There is an element of family satire complete with a snatch of The Archers on the radio and an absurdist streak with a clock striking 17, but when you think that perhaps it is meant to be funny, there's the wife's shriek of "I want him hanged" to stifle laughter. Dad goes on eating.
Down Red Lane, first performed at the Open Space Theatre in 1974, presents a man in a restaurant who is stuffing himself too. Rich foods, alcohol, he's an upper-class glutton while from beneath him his guts are grumbling, pleading for better treatment. "When did you last see your winkle?" Alex Griffin-Griffiths questions as his Belly.
Belly speaks for suffering kidneys and the rest of his overworked organs as the blowzy Diner swallows down oysters, venison with juniper berries and finishes off (as usual) with profiteroles and Sauterne—no, he changes his mind, it's champagne. Luckily for the actor, he's only miming it, but Reginald Edwards is gorgeously grotesque as he gulps it all down bolstered up by Max Pappenheim's sound score.
What in real life would be quite revolting is made very funny. It's particularly relevant today in a world of increasing obesity which shouldn't blind us to the way in which it also about class. The rich consumer above the table exploiting the overworked lower classes with Bertie Taylor-Smith's prim waiter being what? Unproductive service industries that seem to dominate the economy?
You're Human Like the Rest of Them, originally commissioned by the RSC, was Johnson's first play. Written in ten-syllable verse, it was filmed by Johnson himself in 1967.
A supply teacher (Johnson was one) called Haakon Bertie-Taylor Smith is at a group physio session being lectured by the therapist (Sarah Berger) and arguing with him as to why the spine was not designed for bending down. But doctors can't answer why questions. Who to blame then? God? He takes his concerns back to school colleagues and the classroom. But they can't explain the meaning of life in a world where only death is certain and the bell that marks out classroom periods is a reminder of its advance.
This triple bill is presented on the set of the play being performed here Tuesday evening through to Sunday matinée, but the clutter of that set in the background is set against the geometric forms that seem to have been added by design Rüta Irbite for these three. They provide a sort of parallel to the negative surroundings with which these protagonists are presented.
Carla Kingham's direction doesn't worry about identifying setting but puts the emphasis on content and pace, sometimes so fast that you can't catch everything. It plays for about 80 minutes without interval, each play following the other with a briefest of pauses to move pieces of setting.
The cast somehow find a balance between observed naturalness and stylisation and play with a confidence that hides the complexity of some of the writing. Sarah Berger is particularly powerful as the flasher's victim and Reginald Edwards and Alex Griffin-Griffiths a duo with excellent timing that makes their exchanges very amusing.
This production plays on Sunday and Monday evenings and Tuesday matinées only.
Reviewer: Howard Loxton