You Stupid Darkness!
Sam Steiner
Paines Plough and Theatre Royal Plymouth
The Drum, Theatre Royal Plymouth
–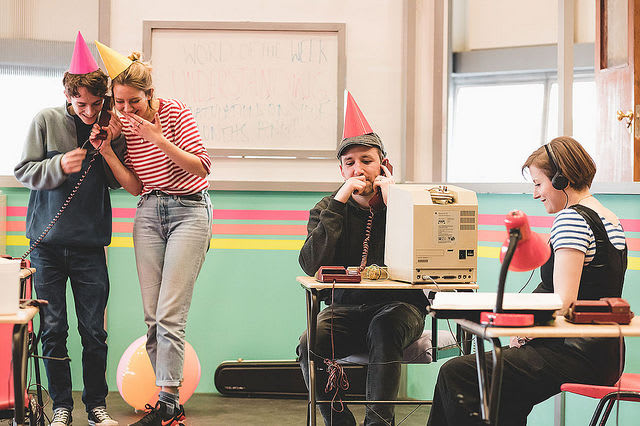 In a world where gas masks are daily attire, bridges collapse, kettles explode and whole forests fall over, four individuals trek into a dingy, decaying office to provide a weekly listening ear.
Inspired by a Peanuts cartoon in which Linus claims it is better to light a candle than to curse the darkness while strident Lucy rails and yells into the night, You Stupid Darkness! is an interesting treatise on optimism, fears and human nature in the face of adversity.
Amy Jane Cook's set is evocative. A filthy generic office space with broken desks, inspirational prints covering crumbling walls and nasty, dysfunctional kitchen space epitomises the apocalyptic near future in which the play is set. Tungsten lights fizzle, flash and fade to pitch black or code red while outside children die, seas seize and sending manuscripts into space may be the only way for them to ever be read.
Frances (Becci Gemmell) is the leading light. Nurturing, patient and optimistic, she strives to keep open the call centre despite diminishing funding, appalling conditions and her burgeoning pregnancy. With perseverance the word of the day, Frances will steadfastly pick up the tattered pieces—whether of uplifting posters, desperate outpourings from anonymous service users or the frayed nerves of her team—and plod onwards sharing platitudes, social work speak, party hats and doughnuts.
Her team has its own reasons for being there.
Naïve Joey (Andrew Finnigan) is doing work experience. Anxiously on the cusp of adulthood in a world whose future is bleak and from a broken home, Brightline offers room to grow, explore his emotions and search for a role model. That may be sardonic Jon (David Carlyle) who has his own "Ode To Joy" and demons to lay but adds a wry black humour, never missing a nuance and seemingly perpetually amused by the unfolding tragedy around him.
Completing the quartet is Angie (Lydia Larson) whose nervous energy and empathy needs reining in but again a back-story unfolds adding to the universal question of just who needs the helpline most: the listeners or the talkers?
Sam Steiner's overlong (but where to apply the 20-minute or so cut?) piece is a funny and compassionate commentary on fear and the indomitable human spirit with sideswipes at society and those who look to squeeze altruistic services into a business model. All four actors are excellent, on point and draw the audience into their tight supportive circle where obscene phone calls sit alongside suicides and most calls end with a hang-up but the inherent episodic nature of the play starts to grate and interest wanes towards the end of the long first half.
The latest in a 30-year partnership between Paines Plough and TRP is a worthy addition to a long line of seminal plays such as Philip Ridley's Mercury Fur, Mike Bartlett's Love, Love, Love, Rona Munro's Long Time Dead and James Graham's The Angry Brigade.
Reviewer: Karen Bussell