Young Chekhov - The birth of a genius
Anton Chekhov, new versions by David Hare
Chichester Festival Theatre
Chichester Festival Theatre
–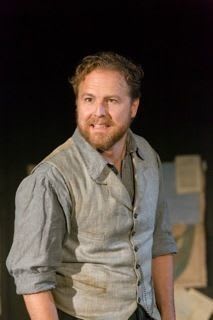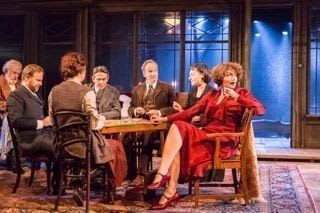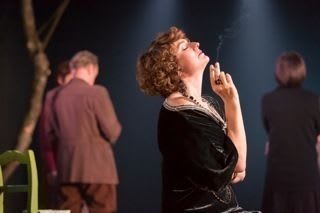 Chichester Festival Theatre is ending their Festival Season with a flourish—and a lot of water.
Three early Chekhov plays are presented one after another over three successive Saturdays, but each can be enjoyed separately on different nights if a whole day's Chekhov is too much to cope with. I managed two, Ivanov and The Seagull, and from all accounts I missed a treat with Platonov—maybe later!
All three plays are performed by an ensemble of twenty-three superb and well-known actors and demonstrate Chekhov's progression from the melodramatic style prevalent at the time to a more philosophical and observational approach, leading to what we now refer to as Chekhovian.
In the titular role of Ivanov, Sam West is a miserably depressed, melancholy Russian with enormous debts, out of love with his dying wife (touchingly portrayed by Nina Sosanya) and with the infatuation of a young girl, Sasha, adding complications. Not the easiest of roles to play but superbly performed.
Here, tragedy is interspersed with comedy, the hypocritical chattering classes changing their story in a heartbeat to suit the listener. Lucy Briers's wealthy money lender Zinaida rushes to extinguish candles to avoid 'waste', while her husband, Lebedev (Jonathan Coy) admits to having 10,000 roubles in the bank but with quick, furtive glances behind to make sure his wife isn't listening, while James McCardle's young doctor cannot stop telling everyone how 'honest' he is.
A similar situation is played out in The Seagull, only this time West is successful writer Tregorin but again has a young girl, Nina, hanging on his every word. Olivia Vinall takes the part of the young girl in both plays and does so quite brilliantly, even almost competing for prominence with the lovely Anna Chancellor's self-centred and theatrically vivacious actress Arkadina, such a selfish character that she cannot see that her son (Joshua James as Konstantin) is longing for approval from his mother who derides his efforts. He is in love with Nina, who is in love with Tregorin, who is the lover of Arkadina—and so it goes on.
The Seagull, calling for a lake in the script, it well served here as designer Tom Pye has provided not only a shimmering lake surrounded by trees but also a river with grasses growing around the banks, and at least two of the performers get very wet indeed. It takes place on the country estate of Sorin, the brother of Arkadina, and is a more complicated play with some very tangled relationships to sort out, every one unsuitable and/or unrequited. The doctor Dorn (Adrian Lukis) blames the lake for creating romanticism.
Peter Egan is the adorably avuncular Sorin (Shabyelski in Ivanov) and the only one to seem reasonably content, even though in failing health. All others are striving for something which is unattainable and the final tragedy is when realism steps in and the final gunshot is for the one who can take no more.
I am often confused in a Chekhov play with the characters seeming to have at least three names apiece and an aversion to using the same one every time, but here, in Jonathan Kent's production/s, the characters are clearly defined and the plays do show the progression of Chekhov's work as it changes with time.
Reviewer: Sheila Connor