YPFii
Elizabeth Bennet & Emma Burford
PHTC
C too
–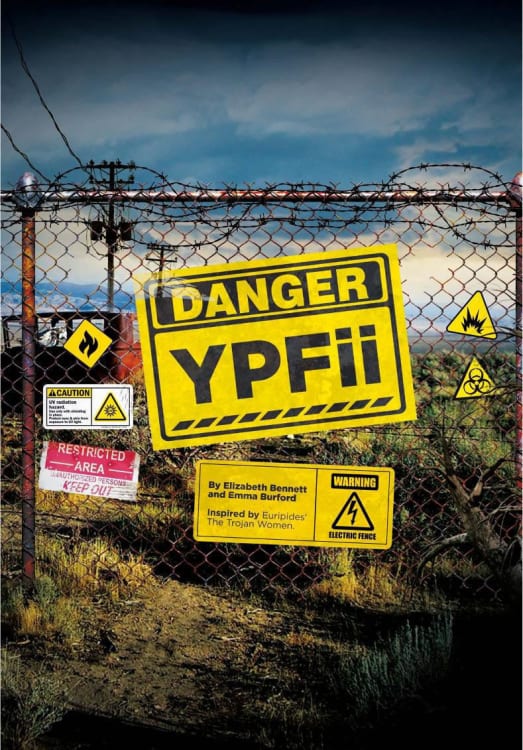 After an unspecified conflict in the near future, a group of ten girls has been rounded up, kidnapped or forced from their fallout shelters and thrust into a large holding cell designated simply as YPFii.
The girls, some sisters, some friends, are held in the room but also given a program of activities including Yoga and massage. Yet, despite the relative hospitability of the situation, most of the girls find themselves angry and resentful towards their unseen captors, who refer to the girls as "the Fallen" and themselves as "the Victors". One by one, the Victors begin to demand the girls forget their past and join them.
The supporting materials for the play mention that the story was loosely inspired by Euripides' study in post-war captives, The Trojan Woman; it's plain to see how that was a jumping off point, and there's a certain uncomfortable brooding clarity to the inevitable reveal of the reason behind their imprisonment.
The play is largely concerned with differentiating all of the characters, each filling a niche role, then showing their reactions to the events as they unfold and how they bond against their imprisonment.
The plot, however, does feel a little thin. It's somewhat telling that, with such a rich concept open with possibilities for drama, the script instead busies itself with popular culture references, and setting up the myriad characterisations and narrative threads which never pay off. It also ends somewhat abruptly, feeling rather truncated.
Nevertheless, it's a valiant effort for a quite young company and shows promise, from the ambition and the acting talents of the troupe, not to mention from the live piano accompaniment throughout by Bethany Reeves.
It's certainly a performance that will appeal to younger, particularly female audience and if reworked and extended could be a very interesting piece of youth theatre.
Reviewer: Graeme Strachan