Zip - a Streetdance Musical
Written by Ray Shell, Sarah Henley and James Kenward, music by Anthony Warnes, WarrenWilson, Shell, Henley and Kenward
Giant Olive Theatre Company
Lion & Unicorn Theatre
(2010)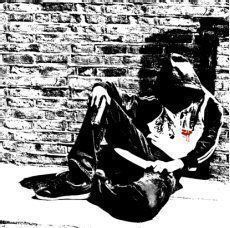 I went to this show with some trepidation for, as well as being a piece of theatre, it has also been developed as work in the community to aid the struggle against violence among the young.. I was delighted to find a show of pounding energy and considerable skill that grabs its audience and holds it completely for its 60 minutes.
Its lively mix of song, beat-boxing, rap and Gary Lloyd's stimulatingly vigorous choreography are delivered with enormous energy. James Kenward drives the show along with his forceful rap as Selky, the ghost of a boy who has been knifed who leads a chorus of ghosts with Tori Allen-Martin a powerful solo voice among the others, but Shell and Lloyd have given created an ensemble that you would never know were not all seasoned music theatre professionals. I admit I could not catch all of the dialogue but then my ears are not fine-tuned to street-talk and it is played with authenticity and conviction.
The plot presents us with a group of four youngsters: one lad (Jake Guttman) who has been looking for a missing brother to tell him that their father has turned up, another (Brandon Lee Henry) who seems to be hiding from the police, together with their girl friends (Alma Eno and Jennifer Oliver) one of whom is from a well off-family. They are flopped out in a deserted place after a heavy night of booze and drugs when three members of a gang turn up who claim it as their territory, intending to stash their weapons there, led by a young man from Afghanistan (Beau Baptist), one of them the brother (Ololade Adewusi) they have been trying to find and the other (Mark Gillham) the murderer earlier that day of Selky.
There is an undeveloped storyline about the estrangement between the two brothers but the heart of the show is the confrontation with the gang and its escalation into violence as police wait outside, which is highly dramatic but is not placed in any social context. Indeed, this feels rather like the action sequence from a much longer play and that we could learn much more from the missing first and final acts than we do from what is offered. There have certainly been shootings, knifings and drug dealing in the Kentish Town and Camden Town area and there is a considerable refugee and emigrant presence which parallel parts of this plot but the show avoids precise location. That and the framing by the use of its ghostly chorus, which gives a somewhat surreal dimension, should make it effective anywhere.
There is a slight danger that, like so many gangster movies, the slickness and the musical and dance values may for some glamorise this exciting episode of violence - not what is needed if you are trying to turn people from it, but this is countermanded by the moving final passage when each of the performers dedicates their performance to one of the young victims of gun and knife crime: just fifteen names out of a list that sadly numbers many more.
This lottery-funded project is the culmination of six months work with young people affected by gun and knife crime who have been living lives against a background of violence. Some of the cast have been gang members themselves and had friends or relatives involved in stabbings. In workshops developing the show they have drawn directly on their own experiences.
The company's outreach involved many local groups to find local youngsters to take part and the cast mixes these members of the community with young entertainment professionals at the beginning of their careers. Director Shell made this show with a group many of whom were unused to theatre discipline, with some members missing rehearsals or being discouraged from taking part by friends or families. In one case non-attendance turned out to be because a young man was being held by the police and that role had to be recast only two week before the opening.
Working on the show will have been an object lesson in responsibility and cooperation for all those involved, as well of giving them a great sense of achievement. It will be interesting to see what effect it has on audiences of their peers. It is not a show that preaches and the story doesn't attempt to offer solutions or any real analysis of the problem but by just presenting it in a dramatic situation it will raise awareness and start young people talking, Will they see the final number, in which each character declares 'It's not my fault,' as ironic or as a cop-out?
Runs in repertoire with other productions until 5th September 2010
Reviewer: Howard Loxton