Zog
Adapted by Emily Kilbey from the book by Julia Donaldson illustrated by Axel Scheffler
Freckle Productions in association with Rose Theatre Kingston
The Lyric, Theatre Royal Plymouth
–

Listing details and ticket info...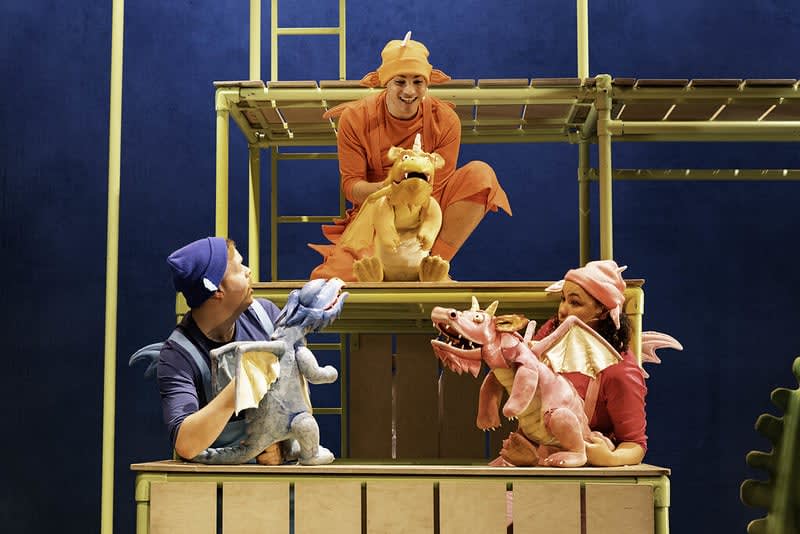 What a delight.
Adapted and directed by Emily Kilbey from the best-selling book by Julia Donaldson and with Axel Scheffler's illustrations brought to life by Lyndie Wright's puppetry design, Zog enchants its (very) young audience from the get-go. An auditorium packed full of pre-schoolers and first-graders absolutely captivated is quite something to behold.
Freckle Productions has done what Freckle Productions does best: breathing life (and fire) into family favourite books.
Danny Hendrix is the orange, accident-prone Zog, eager to try and coveting a gold star from Madam Dragon (Louise Grayford), teacher extraordinaire. He learns to fly and roar, to breathe fire and peppermint and to defeat knights with plenty of cuts and bumps and bruises en route.
Lois Glenister is Pearl, the reluctant princess fed up of wearing a silly frilly frock and aiming to travel the world meting out care and sticking plasters far and wide, while Ben Locke is knight-in-difficult-to-wee-in armour Sir Gadabout who much prefers dancing—or pretty much anything else—to rescuing princesses and quite fancies wearing a twisty stethoscope himself.
With Eliza Waters as Ronnie the Pink Dragon and myriad woodland creatures, rabbits, squirrels, narrator frog and crows abound as Zog learns to try, try and try to be his best.
Katie Sykes has created a basic but effective scaffold and board set for much clambering upon, hiding of mop-headed royalty and to give dimension to a pared-back, simple tale packing a never-give-up message.
Puppets swoop and hop, dragons take flight atop bendy poles and an invisible horse is passed to an audience member to hold and feed sugar lumps.
Beautifully paced, amidst the gently rhyming tale and dragon antics, there is plenty to amuse teenies with bunny poo breath and farty noises, audience participation with tongue twisters, (a tad difficult) spellings and roars—and all is punctuated with Joe Stilgoe's tremendous songs.
A charming 60 minutes.
Reviewer: Karen Bussell