Awards head Tambor has a hidden side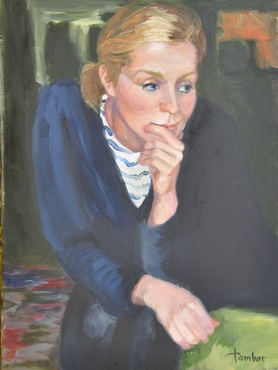 New Yorker Carol Tambor, who is best known for endowing an award for the best Fringe show, has a hidden side.
This year, she is exhibiting a selection of paintings inspired by Fringe experiences over the last few years. She tells BTG about her goals and ambitions.
"The exhibit grew out of a painting of Ella Hickson, done from a photo I took in New York when she came with Eight, the 2008 winner of my award the Carol Tambor Best of Edinburgh Prize.
"Professor Sir Timothy O'Shea and I had talked about raising money for Bedlam, the Edinburgh University student-run theatre where I first saw Eight, and was impressed with the passion of the people writing, directing and producing so much theatre year round.
"Kent Lawson, my husband and President of my Foundation, suggested painting several of the Eight cast members, then the idea of an exhibit / fundraising benefit started to form. The exhibit then included other prizewinners as well as friends I've made through the Festival.
"The thirty canvasses displayed are but a small portion of the people I am proud to call real friends, and look forward to seeing each year in Edinburgh."
The full selection of paintings can be viewed at C ECA or on http://www.bestofedinburgh.org/