Uncompromising, ironic, exuberant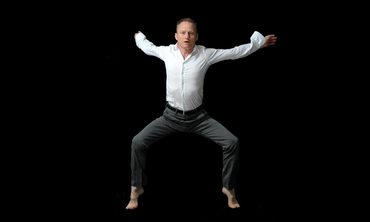 A huge loss to the contemporary dance world, performer, choreographer and director Nigel Charnock, diagnosed with Cancer of Undiagnosed Primary mid-June of this year, died late on 1 August at St Christopher's Hospice in South London. He was 52.
But, he is in fine company. What brilliant theatrical timing! First Chris Marker, the next day Gore Vidal, and the day after that—Nigel Charnock. Three mavericks beholden to no one, what a triumvirate!
Uncompromising, ironic, exuberant, he pursued and exposed many demons influencing artists and performers across the world in the process. Renowned for his teaching and mentoring, Nigel worked regularly with dance centres and independent artists throughout Europe, Israel and Canada, undertaking many choreographic commissions.
Nigel began his performing career in Ludus and Extemporary Dance Theatre, was a founder member of DV8, and in 1995 formed his own company—Nigel Charnock + Company.
From 2002 to 2005 he was Artistic Director of Helsinki Dance Company. From 2006 he toured Stupid Men (an ensemble of male performers) and enjoyed an inspirational partnership with former DV8 performer Wendy Houstoun, both of them experimenters with movement and text.
Internationally acclaimed for a string of unique solo performances, which include Human Being, Hell Bent, Original Sin, Resurrection, Frank and most recently One Dixon Road, Nigel faced up to the meaninglessness of life in a solo show Nothing (2009).
In recent years he created new work for Louise Lecavalier (Canada), Candoco Dance Company, Ludus and National Dance Company of Wales (UK), as well as continuing collaborations with jazz musicians Gwilym Simcock and Michael Riessler (Fever, an improvisation on Shakespeare's sonnets, and Rage).
Nigel was midway into the development of 10 Men, one of his most ambitious projects to date, for his own company. A short section of it was successfully previewed at British Dance Edition and Duckie earlier this year.
An artist responsible for a remarkable body of work, synthesizing media, disciplines and genres, Nigel Charnock redefined dance. Improvisation, song, stand-up mordant humour, everything was grist to the mill.
The Arts Council called him 'a national treasure', others 'the bad boy of physical theatre', some a poet of dance.
The final say must go to Nigel himself: "What's the worst that can happen? Death? I'm more afraid of other people dying, rather than me dying. I've 'died' on stage a few times, after that death loses its sting. It's all quite meaningless and total chaos and you have to fall in love with the chaos. Oh, and smoking gives you cancer and no one in power should ever be trusted." (Sam Dub blog November 2010).
But, for the most eloquent and heartfelt thoughts, go to nigelcharnock.co.uk for evidence of how many people's lives he has touched. And add your own tributes.