Romanian / British theatre collaborations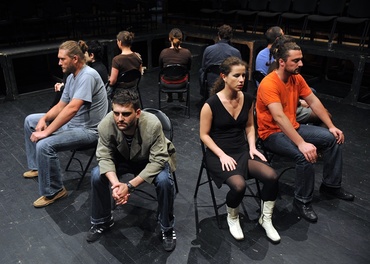 The next two weeks in London see two theatre collaborations between Romania and Britain. 20/20, written and directed by Gianina Cărbunariu, is coming to the London International Festival of Theatre (LIFT) 4-6 July and Muncitor: All Workers Go to Heaven, developed by Ioana Păun during her residency at Theatre Royal Stratford East, 7-11 July.
Both productions have strong socio-political content and represent some of the younger voices working in contemporary Romanian theatre. 20/20 focuses on issues of violent nationalism, prejudice and alienation and is based on the Romanian-Hungarian inter-ethnic clashes that took place in the central town of Târgu-Mureș in 1990, resulting in many injuries and even deaths. Muncitor… has a participatory nature, exploring ideas about domination, inequality and the abuse of power. Described as part art, part social experiment, it offers audiences the opportunity to experience life in a factory.
Both productions have received support from The Romanian Cultural Institute, an organisation that has enjoyed political autonomy, answering directly to the President of Romania and no other political body and able to fund projects that promote Romanian culture overseas, both traditional and progressive.