Exploring messiness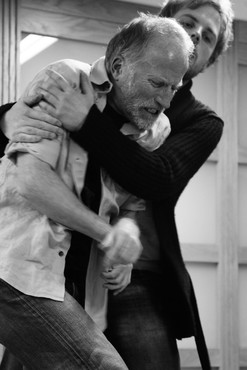 For Cooper, there was a particular sort of messiness he wanted to explore: substance abuse for the sake of inspiring creativity. One of his characters is a classically-educated performance poet, and the other is a young wannabe MC.
I asked him where the poetry element in the play came from. "There's a lot of language and poetry happening in the modern day that isn't necessarily represented in the correct way by the general culture", he says. "I believe that hip hop is a continuation and a reinvention of some of the formal aspects that we have in poetry. It's given a bad rap sometimes—hip hop can be grandiose, and it can sometimes be a bit hysterical, sometimes very grotesque, so it's given this sort of label. But it actually comes from a cultural basis and talks about real human emotion, in exactly the same way as poetry does—I don't see too much difference between what Keats produces, and the work of rappers like Eminem or 2Pac."
And as for the supposed connection between substance abuse and creativity—Cooper recognises that there's a long history to the idea (just think of Burns on the whisky or Coleridge on the laudanum), but thinks it's still worthy of exploration in a modern context. His play by no means sets out to endorse the actions of its characters; but it doesn't condemn them either, it just raises the question of what we would do in a similar situation, and whether there could be something strangely admirable in flying off the rails only to reach a state of delirious inspiration.
It strikes me as intriguing that of our two plays, the one written by a woman has an elderly man as its central character, while the one written by a man is purely focused on the experiences and emotional journeys of two women. You could argue that both plays, in a different way, represent a "strong female voice". But can you simplify matters like that?
I ask both writers if they feel that their gender matters—and how the Sheer Drop productions relate to the debate, which has arisen again of late, about the place of women in theatre. Coates says that most of all she doesn't want to feel ghetto-ised, or in any way set apart by the issue: "I would really hate to have my play put on just because I was a woman—by some company that just served women, regardless of whether the play had any merit."
She points out that other branches of the performance industry are much tougher for women to break into than theatre: "Having done stand-up comedy, and having been the only woman on a bill full of men, and having people think that I was one of the comics' girlfriend—now that's being marginalised, that's much harder than writing plays, going into that situation."
Cooper adds: "Drama is inherently about people, whether they're male or female." But although he wouldn't want the fact that his play has an all-female cast to be the sole reason why anyone would come to see it, there was still an intention behind his decision to write female characters. "I was sick of seeing women used as a mechanical device by which to describe men. That's something you see in film constantly, and it really frustrates me because there's so much drama that people aren't talking about—there are some innate human dramas that women experience that no one else does. A writer should be able to write about whatever culture they want to—whatever they find interesting, provided they can do so authentically."