A "unique" partnership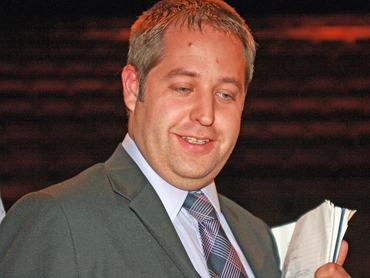 Two-and-a-half years after forging a partnership described as "unique", the University of Derby and Derby LIVE have gone their separate ways.
When the University took out a 99-year lease on the old Derby Playhouse, it brought in the city council's entertainments division, Derby LIVE, to organise the artistic programme. Now the university is embarking on a new future even though it missed out on Arts Council funding.
The Playhouse had been dark for almost two years when the University and Derby LIVE brought it back into use. But despite having what Derby LIVE said was an "impressive track record", the University decided to make an independent application to the Arts Council to become a regularly funded organisation. The Arts council turned down its bid for funding of £726,000 a year.
A further blow came when the city council withdrew its annual £250,000 contribution to Derby Theatre.
The University has doubled its annual cash injection to £500,000—but it means there'll be no locally-produced theatre this season, which will rely on a succession of touring productions.
Theatre manager Gary Johnson admits that the two organisations had a very good relationship which they'd like to continue if possible.
"I think it needs to be recognised that Derby LIVE did a fantastic job in certain respects. The building reopened very quickly in September 2009—it took a lot of time and skill on behalf of Derby LIVE to get that up and running so quickly.
"It's been a very fruitful partnership for us. We very much want to have an ongoing partnership and a relationship with them so that the city benefits in the long run."
While Johnson admits that Derby Theatre is going through a transitional stage, he concedes that without Arts Council funding there'll be no produced theatre in the building in the immediate future.
"Artists, local community groups, theatregoers and the general public want to see produced theatre in this building. And it's our aspiration to return to that at some stage.
"I can't give you any timescale but certainly we would like to see a return to produced theatre within this building before the end of this year."