£6,000 Brian Way Award winner announced
Published: 20 April 2012
Reporter: David Chadderton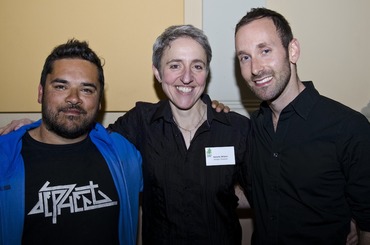 The 2012 winner of the Theatre Centre Brian Way Award for new plays for young people, with a cash prize of £6,000, has been announced as Evan Placey for his play Holloway Jones commissioned by Synergy Theatre Project.
The award was presented at a ceremony at Shoreditch Town Hall in London on 19 April by last year's winner Keith Saha who was on the judging panel. Also on the panel were Ministry of Stories co-director Ben Payne, actor Jenny Jules, Lyric Hammersmith young artistic associate Meera Shekar and artistic director of Islington Community Theatre Ned Glasier.
Theatre Centre's artistic director Natalis Wilson said, "The judges felt that Evan Placey's writing displayed an inherent theatricality in his use of language and imagery and the truthful story-telling showed a great talent and understanding in writing for young audiences."
Other shortlisted plays were The Machine Gunners by Ali Taylor produced by Polka Theatre, Get Santa! by Anthony Neilson and Nick Powell produced by the Royal Court, Little Miracles by Joy Wilkinson produced by Islington Community Theatre and The Great Bear of the North by Jude Emmet produced by Red Dog Productions.