Get Santa!
Antony Neilson, music by Nick Powell
Royal Court Theatre Downstairs
(2010)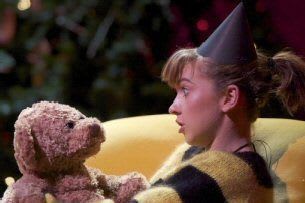 Get Santa! is good clean, if slightly seditious, Christmas entertainment designed for anyone 7+. That may come as a surprise to those who recall the same writer's Penetrator, which even by In-Yer-Face standards was deeply shocking.
The dream-like tale of Holly Finnegan's quest for her father takes place in her living room within Miriam Buether's magical, Christmas present-influenced setting.
Antony Neilson, who also directs, knows how to write a good story (with Nick Powell's assistance) and keeps the audience on the edge of their seats as he fulfils Roy Wood's terrifying request "I Wish It Could Be Christmas Every Day" with predictably humorous results.
The play starts with the appropriately childlike and highly watchable stage debutante Imogen Doel's unhappy Holly, a 10-year-old Irish lass who believes that "Christmas is rubbish". In particular, she painfully expounds on her distress at facing the festival fatherless, having never met the man who helped give her life.
She lives with Mum and Gran, respectively played by Gabriel Quigley and Amanda Hadingue, who are ordinary enough but canine Stepdad Bernard is something else. This constantly chuffed tail-wagger is immensely good-natured, if rather too doggy for the little girl's comfort.
Holly, who dresses like an overgrown bee, concocts a cunning plan of Baldric proportions to Get Santa and force him to conjure up her missing Dad.
This goes wrong when the white bearded old man lets his dim apprentice son Bumble Hole deliver the gifts. Tom Godwin as BH is the spitting image of Batman's favourite foe The Riddler but has a much sweeter nature.
He gets into a mess with the added responsibility, allowing Holly's teddy to come to life for a (Christmas) Day. This allows puppeteer Chand Martinez to charm and may also unsettle the audience as the Teddy becomes increasingly dictatorial.
To avoid spoiling the plot, suffice to say that under the guise of a reincarnated Dad, mischievous Teddy causes chaos and perpetual repeats of Xmas tedium, offering a salutary reminder to us all in the run-up to the big day. The sheer boredom is perfectly encapsulated by brief witty snapshots of TV news programmes of growing eccentricity.
The whole is punctuated by Nick Powell's songs, which balance the qualities of children's TV ditties with the values of musical standards.
Like Neilson's previous Yuletide show at the same venue, The Lying Kind, this two-hour comedy takes a traditional format and subverts it, in doing so challenging its audience, which is no bad thing at this time of year.
With its darkly realistic take on modern-day Christmas, Get Santa! should keep young and old amused, with lots of jokes, while advancing a strong plot that actually has an underlying moral, which isn't excessively laboured. All in all, that makes it a good alternative to traditional seasonal favourites.
Playing until 15 January
Reviewer: Philip Fisher