A digital festival of dance from Leicester
Published: 23 March 2020
Reporter: Vera Liber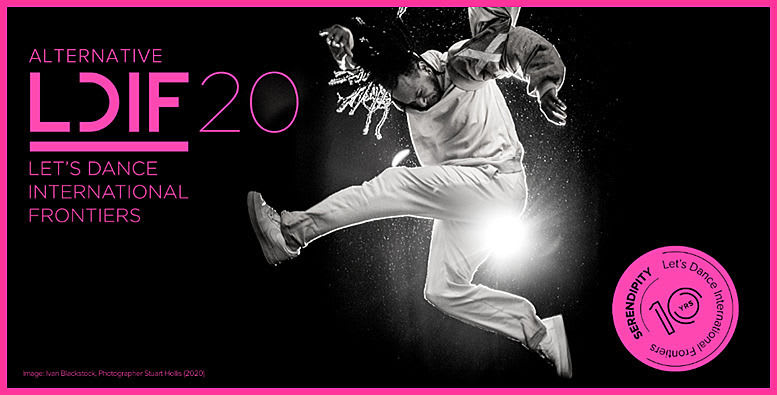 Let's Dance International Frontiers, the annual dance festival in Leicester, is going ahead online with Alternative LDIF20, a digital festival of dance, from 29 April to 18 May following the postponement of the physical festival due to the coronavirus pandemic.
Alternative LDIF20 will feature dance performances, speakers, an online exhibition, film screenings, the launch of Serendipity's podcast and a look behind the scenes. In celebration of the festival's ten-year history, a new book, LDIF: 10 Years in the Making, written by Pawlet Brookes, Artistic Director and CEO of festival producer Serendipity, is to be launched.
Dance Dialogues is a daily programme presenting the thinking and practices of artists, choreographers and academics from the African and African Caribbean diaspora with talks daily at 11AM from speakers including Kyle Abraham, S Ama Wray, Gladys M Francis, Thomas Prestø, Nora Chipaumire, Chester Morrison, Jawole Willa Jo Zollar, Ronald K Brown, L'Antoinette Stines and Joan Myers Brown.
Artists originally scheduled to appear in person will be sharing more about their work in advance of their rescheduled performances. Alice Sheppard, award-winning disabled dancer and choreographer, will present a short video of her work-in-progress, Where Good Souls Fear, on Thursday 7 May at 7PM. Annabel Guérédrat and Henri Tauliaut of the Martinique-based Artincidence will share their documentary Annabel the Rebel, which explores Guérédrat's practice and work as a double bill with Thoughts from FIAP by Pawlet Brookes on Saturday 9 May at 7PM.
Yinka Esi Graves is sharing her developing work-in-progress Disappearing Act, with a series of short films captured via performances and residencies from the last 12 months. There will be a performance of a new piece of work by Tabanka Dance Ensemble, shared online for the first time, on Friday 8 May at 7PM.
The festival will culminate with the debut of 30 Seconds of Freedom, a collaborative work of thirty-second bursts of movement submitted by dancers, artists and enthusiasts from around the world. Anyone is welcome to submit 30 seconds of movement, in any style or genre, grand or small. Films should be made in a horizontal aspect ratio and e-mailed to [email protected] by Monday 27 April.
Pawlet Brookes said, "for the last nine years, this festival has fostered creative collaborations and brought together the international dance ecology. We are excited to embrace the technologies that allow us to stay connected globally and to continue sharing the incredible work of these artists in the face of an unprecedented situation that is impacting people around the world. We hope that Alternative LDIF20 will enable those missing out on cultural experiences to enjoy a diverse programme celebrating international dance, that can be accessed globally—safely and for free."
LDIF is planning to return in its physical format in October 2020 for the LDIF20 Finale.