A monster zoo on tour
Published: 14 August 2017
Reporter: Peter Lathan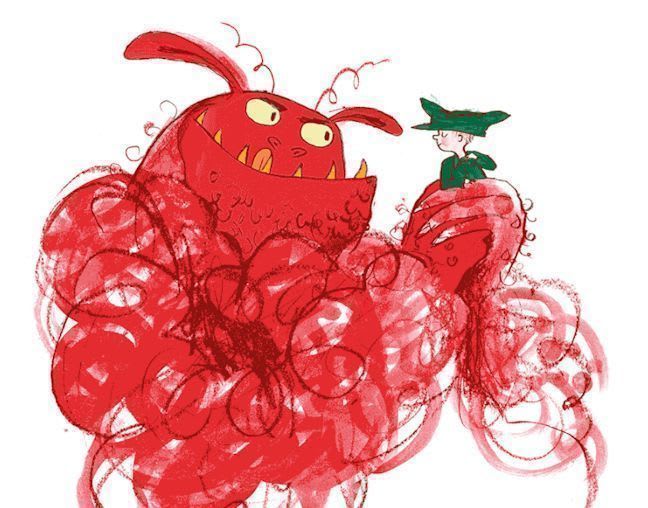 New Writing North is to tour Do Not Enter the Monster Zoo, a play for the under-7s adapted by Stacey Sampson from the picture book written by Amy Sparkes and illustrated by Sara Ogilvie, from 23 September to 29 October around Co Durham, Tyne and Wear, Northumberland, Cumbria (schools only), Manchester, Leeds and Wakefield.
Do Not Enter The Monster Zoo is the final production in a series of three, which NWN has produced and toured annually from October 2015 to October 2017 for the Durham Book Festival, funded by Arts Council England's Strategic Touring Programme. The previous two productions were Man on the Moon (2015) and Hey Presto! (2016). Prior to that, NWN had produced and toured The Worst Princess in 2014.
The project aims to provide opportunities for people to experience high quality literature and performing arts in their local communities and to sustain arts activity in those communities. Largely, the show has returned to the same venues over the three years, so local audiences have come to expect them and we have been able to build relationships with venue managers, supporting them to programme more arts activity in their communities.
The hero of the story has received an invitation to run a zoo for a day. But this isn't just any zoo; this zoo seems rather odd and the keeper is in a great hurry to leave for his holiday. This zoo is a mess and the creatures are all misbehaving. This zoo is a Monster Zoo.
Can these naughty creatures ever learn to mind their manners? The play asks the audience to help our young hero take on a Monster Zoo full of weird and wonderful creatures.
The company is Callum Howard, Joe Johnston, Rachel Gay and Zoe Lambert, and the production is again directed by Ruth Johnson. Designer is Andy Stephenson.
The production will visit:
County Durham
Saturday 23 September, 10AM
Waterhouses Community Centre, DH7 9AS

Saturday 23 September, 2:30PM
Peterlee Library, SR8 1NT

Saturday 30 September, 10:30AM
East Durham Creates presents a performance at Shotton Community Centre, DH6 2PQ

Saturday 30 September, 2:30PM
Chester-le-Street Library, DH3 3BP

Wednesday 4 October, 10AM
Bishop Auckland Town Hall, DL14 7NP

Wednesday 4 October, 1:45PM
Crook Library, DL15 9ES

Thursday 5 October, 2PM
Jubilee Hall, West Rainton, DH4 6NU

Saturday 7 October, 10AM
Tanfield Lea Community Centre, DH9 9LZ

Saturday 7 October, 2:30PM
Seaham Library, SR7 7JE

Sunday 8 October, 10:30AM
Gala Theatre Studio, DH1 1WA

Sunday 8 October, 2:30PM
Tow Law Community Centre, DL13 4AW
Saturday 14 October, 10:30AM
Crown Street Library, Darlington, DL1 1ND

Saturday 14 October, 2:30PM
Locomotion: The NRM at Shildon, DL4 2RE

Sunday 15 October, 10:30AM
Dipton Community Centre, DH9 9DR

Sunday 15 October, 3PM
East Durham Creates presents a performance at Trimdon Station Community Centre, TS29 6BS

Wednesday 25 October, 10AM
Greenhills Centre, Wheatley Hill, DH6 3JS

Wednesday 25 October, 2PM
East Durham Creates presents a performance at Horden Youth & Community Centre, SR8 4LH

Friday 27 October, 2PM
East Durham Creates presents a performance at Blackhall Community Centre, TS27 4LG

Saturday 28 October, 10AM
Pelton Community Centre, DH2 1DE

Saturday 28 October, 2:30PM
Newton Aycliffe Library, DL5 4EH
Tyne and Wear and Northumberland
Sunday 24 September, 11AM
Byker Community Centre, NE6 2DX

Sunday 1 October, 11AM & 2PM
Sage Gateshead, NE8 2JR

Monday 16 October, 10AM
Haltwhistle Library, NE49 0AX

Tuesday 17 October, 2PM
Newcastle City Library, NE1 8AX

Thursday 19 October, 10AM
Cramlington Library at Concordia Leisure Centre, NE23 6YB

Thursday 19 October, 1:45PM
Ashington Leisure Centre & Library, NE63 9JY

Saturday 21 October, 10AM
The Cultural Spring presents a performance at Back on the Map Hendon, Sunderland SR2 8JG

Saturday 21 October, 2PM
The Cultural Spring presents a performance at St. Oswald's Communicare, Grindon, Sunderland SR4 9QZ

Sunday 22 October, 2PM
The Exchange, North Shields, NE30 1SE

Sunday 29 October, 11:30AM
The Word: National Centre for the Written Word, South Shields NE33 1JF
Manchester
In partnership with Manchester Literature Festival
Tuesday 10 October, 11:30AM & 2:15PM
Beswick Library, M11 3DS

Wednesday 11 October, 11AM & 2PM
The Factory Youth Zone, M9 8AE
In both cases tickets are free to local schools and families. For details please e-mail [email protected]
Yorkshire
Thursday 12 October, 2PM
The Compton Centre, Leeds, LS9 7BG

Thursday 26 October, 11:30AM & 2:30PM
Airedale Library, Wakefield WF10 3JJ