A plea for ballet at Edinburgh Fringe: choreographer David Murley speaks out
Published: 31 July 2014
Reporter: Vera Liber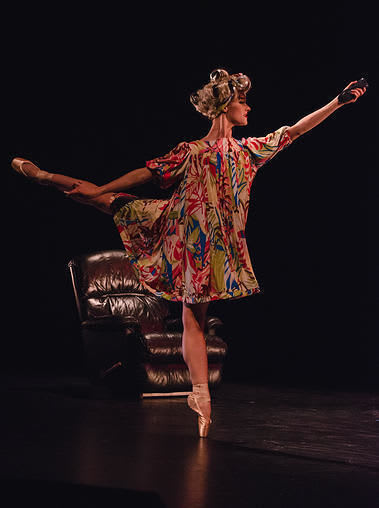 'A scarcity of ballet at The Edinburgh Festival Fringe is preventing career advancement for many upcoming dancers' says David Murley, Artistic Director of professional ballet company MurleyDance.
Hosting more than 3,000 shows, and labelled as the 'World's Largest Arts Festival', you would expect more than four productions—at the last time of looking at the Edinburgh Fringe web site—in the ballet category.
David Murley believes that there is an audience for ballet at the Fringe: "I am amazed just how under-represented ballet is. When most people think of the Fringe, they think comedy, and for good reason. But there is undoubtedly demand for original and thought-provoking ballet presented to the highest level of technical discipline.
"This is our second year in Edinburgh and we have had to move to a venue with more than double the capacity we had last year simply because of high audience demand and lack of direct competition!".
"The Edinburgh Festival Fringe is a platform that has spring-boarded so many careers, yet upcoming classical-based companies and dancers are just not taking advantage of it. More specifically, they are not being given the opportunity to take advantage of it!"
"There's an accepted wisdom that to be a success you have to get into the Royal Ballet or English National Ballet, but the reality is very different. There are hundreds of talented dancers but only limited spaces at the established companies.
"At MurleyDance, we are like 'ballet-entrepreneurs'. Instead of presenting the over-competitive classical repertoire, we are focusing on presenting new works that showcase the extraordinary talents of dancers, choreographers, designers and composers. Through this approach we provide opportunities for upcoming talent to perform to new audiences".
This year, MurleyDance is presenting Object of My Affection, three new pieces which explore the deep and unbreakable relationships we form with objects, such as technology, people and our homes.
Amongst MurleyDance's upcoming stars is 19-year-old choreographer, Richard Chappell, whose Into Decay is the final piece in MurleyDance's Object of My Affection.
Richard said, "My ambition was to be both a contemporary and classical choreographer, but in most classical ballet companies there are extremely limited opportunities for young choreographers. MurleyDance have given me the first step, and now I am excited to have my work showcased in front of an international audience at such an exciting event!".
MurleyDance is a London-based modern ballet dance company, fusing classical technique with theatricality. Founded in 2011 by former English National Ballet and Glyndebourne Festival Dancer David Murley, the company debuted in February 2012 in Resolution! at The Place, and have since appeared at Rough and Tumble, Spiral Arts Festival, Resolution! 2013, Edinburgh Festival Fringe 2013.
MurleyDance is performing Object of My Affection at Greenside Venue, Nicholson Square between the 1st and 23rd of August. For more information visit www.murleydance.com.