Bleak outlook for live events without support
Published: 30 January 2022
Reporter: Sandra Giorgetti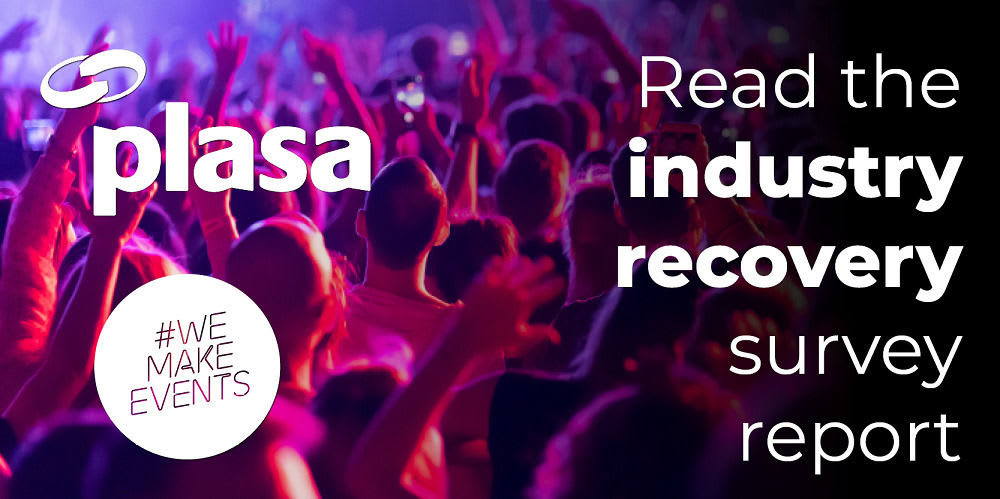 PLASA and #WeMakeEvents this week released the results of a global survey of the live events industry completed by 1,948 respondents in more than 40 countries.
It paints a bleak picture for a sector beset by skills shortages and scarcity and/or delays in obtaining components, with operators carrying the burden of additional debt taken on to survive the ongoing crisis, and freelancers experiencing significant drops in income of up to 78%.
The negative outlook that emerges predates the arrival of the Omicron variant which put paid to festival seasonal events, and yet shows little confidence of a recovery within six months, with at best cautious optimism for the period that follows. The risk is of not being able to meet the demand for live entertainment and cultural events which is expected to rise.
The position is summarised by Andy Dockerty, managing director of Adlib, who said, "as a busy supplier to live events, the pressures have been immense. COVID and the enforced lockdown resulted in our turnover being down 80% and we had to rely on substantial CBILS loans to honour debt amassed through no fault of our own. These loans enabled the company to stay afloat and have resulted in huge additional monthly repayments. Couple this with rising bills and interest rates triggered by a lack of confidence in the sector from lenders, the industry is heading for a very uncertain 12 months or so.
"When allowed to work, we are capable of recovering quickly, proving the sector to be viable. The negative messaging and Plan B announced by government in December resulted in our sector once again losing 80% of its income for December, January and the majority of February with absolutely no help at all, amassing further debt.
"We believe there is the potential for a busy 2022 from April onwards, however, there is the added factor of huge shortages within the sector resulting in many companies not being able to deliver numerous jobs or capitalise on any opportunities because of the lack of qualified personnel. Although we may be coming out of one crisis, amassed debt, massive staff shortages, rapidly rising overheads and interest rates, product availability and supply chain issues means we are quickly heading into a very different crisis and we will all need help."
On a broader note, there will also be knock-on effects to a reduced landscape of live events for the hospitality and leisure sectors.
Without prompt government support and business investment, this remains a strong possibility as organisations fold and the workforce which has found work elsewhere stays put leaving live events short of skills.
Chair of PLASA Adam Blaxill talks of a long road to recovery and calls on the UK Government "to recognise the complex challenges we face and assist in the recovery. We are renowned all over the world for what we do; our capability and the quality and creativity of our sector is world class, yet this survey clearly shows that it is being diminished—our capacity is declining and our talent is leaving!"