Bolan musical joins Coventry writer's drama at Belgrade
Published: 14 July 2012
Reporter: Steve Orme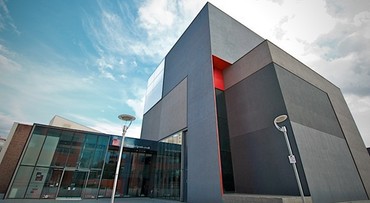 Coventry's Belgrade Theatre has announced its new autumn season which includes a musical about pop star Marc Bolan and Coventry writer Geoff Thompson's latest drama.
The season starts with the Belgrade's new musical 20th Century Boy which will play on the main stage from 14 until 29 September.
The production was inspired by the life of glam rocker Marc Bolan and his band T Rex and coincides with the 35th anniversary of his death.
It looks behind the glitter and the sequins to tell the story of Marc Bolan's life from the perspective of his son Rolan who tries to find out more about his father who died when Rolan was only two.
Fragile, a new play from BAFTA award-winning Geoff Thompson, will run in the B2 auditorium from 8 until 22 September. It charts one man's remarkable journey through traumatic abuse, self-discovery and ultimately redemption.
The play will be directed by Nick Bagnall who said, "Fragile is challenging and dangerous as well as being extraordinary in its poetry and theatricality. It deals with a domestic situation in epic proportions."
The Agatha Christie Theatre Company returns with Murder on the Nile from 8 until 13 October before hit West End show Calendar Girls takes to the Belgrade's main stage from 15 to 20 October.
The Belgrade will also be producing American family drama The Dark at the Top of the Stairs which will run in B2 from 20 October until 10 November.
Written by William Inge, The Dark at the Top of the Stairs won the Tony Award for best play in 1957 and has not been seen in England for a generation.
All-male Shakespeare company Propeller makes its way back to the Belgrade from 8 to 10 November with Twelfth Night. The classics continue on 14 and 15 November in B2 with Tacit Theatre's take on Chaucer's The Canterbury Tales.
Christmas at the Belgrade marks the return of Coventry's panto legend Iain Lauchlan as he returns to play the Dame in Sleeping Beauty from 28 November until 5 January.
Christmas cheer continues in B2 with a reprieve of musical comedy Crackers from 8 until 22 December.
Full details can be found at www.belgrade.co.uk.