Cumbernauld Theatre delays opening
Published: 28 June 2020
Reporter: Sandra Giorgetti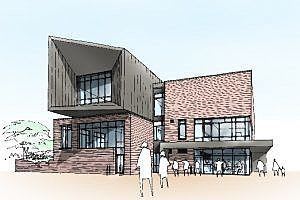 The North Lanarkshire town of Cumbernauld had been looking forward to the opening of its new arts venue, but because of the pandemic shutdown this has now been delayed.
The venue, which has been closed since December 2019, has been unable to complete works to the new state-of-the-art building which will include spaces for theatre, cinema, music, comedy and dance. It will now open following completion and only when it is safe to do so and in compliance with Government advice.
Karen Moore, Chair of Cumbernauld Theatre Trust, said, "it's been a very unsettling time for everyone in the arts, with so many unknowns, and the timing couldn't have been worse for the launch of the new venue.
"At the same time, however, we are delighted to announce that we are developing plans for an exciting alternative autumn season of artistic collaboration between performance artists and our community in a safe, socially distanced and locally focused participatory programme of work. We are very much looking forward to welcoming everyone into our new venue and to opening a new chapter in the history of Cumbernauld Theatre."
Whilst full opening is awaited, there are plans for the company to undertake some artist-led community theatre projects in accordance with phase 3 of the Scottish Government's guidance and safety guidelines.
Cumbernauld Theatre was founded in 1960 and is one of Scotland's oldest professional producing theatres which, with visiting companies, offers a year-round programme of events across drama, music, comedy and dance.