Curve's 'move forward' call after Mayor slams 'disastrous' project
Published: 11 August 2012
Reporter: Steve Orme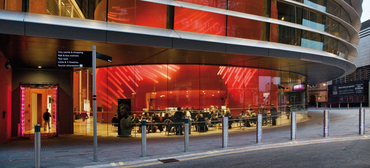 Leicester's Curve has responded to comments from the city's Mayor calling the theatre "the most expensive and most disastrous project this city has ever seen in its history".
Sir Peter Soulsby, elected Leicester's first city mayor in May 2011, made the statement after revealing that the city was still paying annual running costs of £100,000 for Curve's predecessor the Haymarket which closed five years ago.
He said, "Curve is a wonderful theatre and we're very proud of it. But it came at an enormous cost and it's quite clear that when it was planned people didn't control the costs."
The city council expected to pay £4.4 million towards Curve. But the authority had to fork out £36.8 million towards the £61 million total cost when the original budget doubled.
Curve's chief executive Fiona Allan said she would be disappointed if the Mayor's comments were a reflection on the current operation of the theatre.
"We're having a great deal of success. We've just had [Hollywood producer] Harvey Weinstein talking about all the reasons why he's bringing Finding Neverland to Curve—there aren't many theatres in the UK where he could bring it," she said.
"Sales have gone up year on year, we're building audiences and our financial position continues to improve. We shouldn't dwell on the past. We really need to move forward."