Elixir Festival at Sadler's Wells
Published: 1 September 2014
Reporter: Vera Liber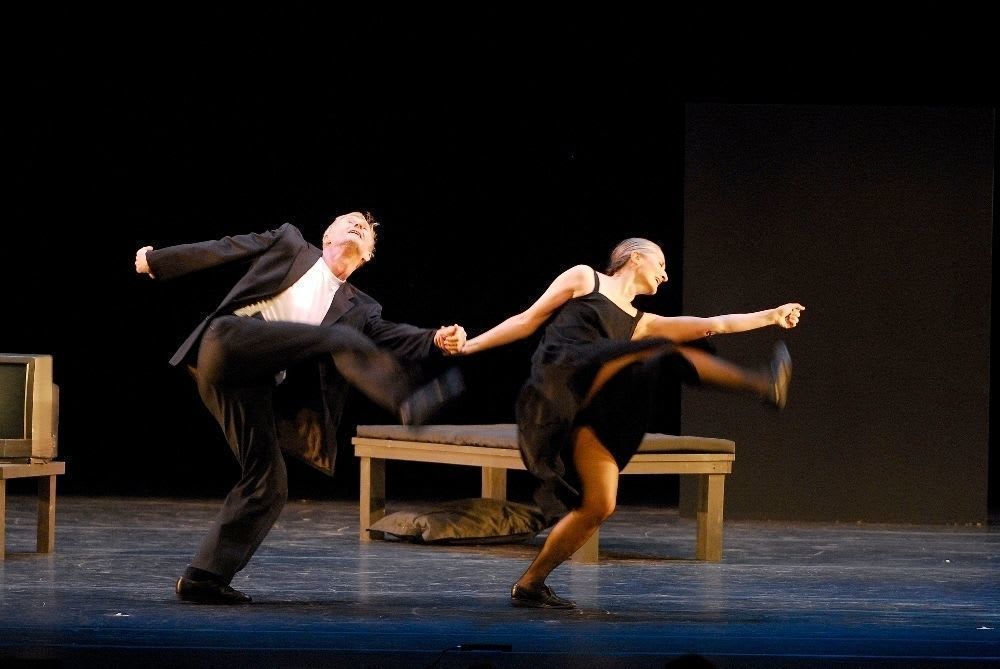 Sadler's Wells presents its largest ever celebration of lifelong creativity and the contribution of older artists this autumn, with four days of performances, workshops, film-screenings and events throughout the theatre from 12 to 15 September 2014.
The Elixir Festival brings together more than 400 performers and contributors, including Mats Ek, Ana Laguna, Dominique Mercy, a cast of nine former professional dancers, Sadler's Wells's acclaimed Company of Elders, 25 elders dance groups from right across the UK and Chilean group Generación del Ayer.
The main stage mixed programme, KnowBody; A lifetime of experiences (12 and 13 September), presents contemporary dance illuminated by a lifetime of experience.
It offers a rare opportunity to see celebrated former professional dancers—some of whom are returning to the stage for the first time after twenty years or more—perform a new work commissioned by the theatre from Jonathan Burrows and Matteo Fargion and former artists of London Contemporary Dance Theatre, The Royal Ballet, Second Stride and the Siobhan Davies Dance.
The dancers include Christopher Bannerman, Brian Bertscher, Anne Donnelly, Linda Gibbs, Lizie Giraudeau, Betsy Gregory, Geraldine Morris, Namron and Kenneth Tharp, who have temporarily come out of retirement to perform this illustration of the body as an archive of rooms, steps and forgotten stories.
It is complimented by Mats Ek's Memory, performed by the choreographer himself and dancer Ana Laguna, his wife and muse. This piece is a reflection on midlife sensuality: a man remembers a woman, the memory brings her on stage and the past becomes the present.
Dominique Mercy performs a new solo directed by Pascal Merighi and accompanied by projections created by Alexandre Castres. Merighi and Castres are former members of the late Pina Bausch's Tanztheater Wuppertal, with whom Mercy has performed for 40 years, as well as being a choreographer in his own right.
KnowBody also features 18 dancers from the Sadler's Wells Company of Elders presenting a restaged excerpt from Hofesh Shechter's In your rooms.
Hofesh Shechter said of his experience: "It is fascinating for me to see my work restaged on mature dancers. To work in a studio so full of wisdom, life experience and laughter is a gift you don't say no to."
Established in 1989, the Company of Elders is Sadler's Wells's resident over-60s performance company. Over the past 12 years the 26 members have worked with Matthew Bourne's New Adventures, Hofesh Shechter Company, Wayne McGregor | Random Dance, Jasmin Vardimon Company, BirdGang, Luca Silvestrini and Clara Andermatt.
They have performed at locations ranging from The Houses of Parliament, National Theatre and Duckie Cabaret Club to foreign tours spanning Russia, Holland, Austria, Portugal, and the Venice Biennale Dance Festival. In 2009 (rebroadcast in 2012) the group was the subject of a BBC1 Imagine documentary, Imagine… Save The Last Dance.
Generación del Ayer, the inter-generational company from Chile, performs an extract from Lo Que Me Dio El Agua (What the water gave me), a tribute to the life and work of Mexican artist Frida Kahlo.
The company said: "Over 60 is the time to realise your dreams, not relinquish them. To stop dancing would be like forgetting a language we have always spoken."
From 13 to 15 September, the Lilian Baylis Studio hosts Elixir Extracts, a mixed programme featuring older dancers and 25 companies. More than 50 companies applied to be part of this performance programme.
On Monday 15 September, the Art of Age Conference features contributions from artists, choreographers and leaders in culture, health and performance research. The morning session focuses on dance and well-being while the afternoon examines the artistic perspective, followed by a performance from the Company of Elders in the Lilian Baylis Studio.