Father and son team win Theatre Book Prize
Published: 9 June 2022
Reporter: Sandra Giorgetti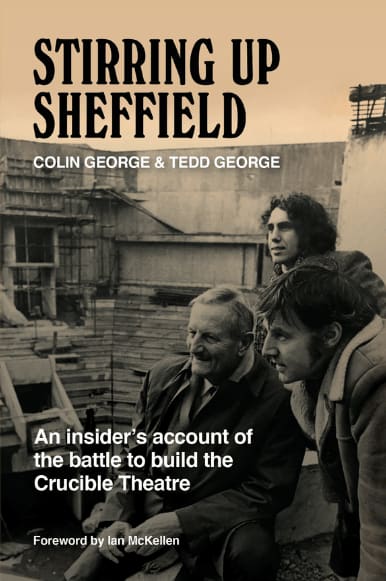 Stirring up Sheffield: An insider's account of the battle to build the Crucible Theatre has won the Society for Theatre Research Theatre Book Prize 2022.
It is a book started by Colin George, the theatre's first artistic director, and completed by his son, Tedd.
The book, which has a foreword by Ian McKellen, recounts the events that led up to the building of the theatre, with a then radical design and the inclusion of a thrust stage which divided opinion whilst also kick-starting a rethink of the interface between actor and audience.
Theatre director and one of this year's judges Jatinder Verma said, "Colin and Tedd George recall the remarkable adventure that became the creation of the revolutionary new Sheffield Crucible Theatre. Their story is replete with the bureaucratic and artistic opposition aroused by the radical design Colin George proposed for the theatre, while revelling in the excitement of giving a new shape to the physical relationship between audiences and artists.
"How a seemingly unassuming director of a regional theatre led the creation of the visionary stage that is the Sheffield Crucible—leaving an iconic legacy in his wake—is a stirring story for our times."
Verma was joined on the judging panel by National Theatre archivist Erin Lee and theatre critic Paul Vale; the chair was BTG's own Howard Loxton representing the STR.
The Georges' book saw off competition from the shortlist of:
Eileen Atkins's Will She Do? Act One of a Life on Stage (published by Virago)
Stephen Bourne's Deep Are the Roots: Trailblazers Who Changed Black British Theatre (published by History Press)
David Bratchpiece and Kirstin Innes's Brickwork: A Biography of the Arches (published by Salamander Street)
Dan Hutton's Towards a Civic Theatre (published by Salamander Street)
David Storey's A Stinging Delight: A Memoir (published by Faber)
Stirring up Sheffield: An insider's account of the battle to build the Crucible Theatre is published by Wordville.
Established in 1998, to celebrate the Society's Golden Jubilee, the STR Theatre Book Prize celebrates the writing and publication of books on British-related theatre history and practice.