Fringe First for Book Festival's Letters Home
Published: 31 August 2014
Reporter: Sandra Giorgetti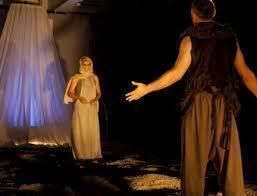 Sold-out promenade theatre show Letters Home has won a Fringe First Award from The Scotsman.
A collaboration between the Edinburgh International Book Festival and multi-award-winning Scottish theatre company Grid Iron, this piece is made up of four specially commissioned works of short fiction in the form of letters.
Each of the four writers originates from Commonwealth country and their letters on themes of identity and home has been adapted into a production directed by four of Scotland's leading theatre artists alongside Creative Co-ordinator Zinnie Harris.
Judith Doherty, Co-Artistic Director of Grid Iron, said, "we are really delighted to have received a Fringe First.
"Letters Home was a labour of love for everyone at Grid Iron as new writing is at the heart of what we do and to have had the opportunity to work with, and meet, such distinguished writers has been a real honour.
"We are also delighted that our collaboration with the Edinburgh International Book Festival has been so well received by our audiences."