Greenwich + Docklands International Festival 2022
Published: 13 May 2022
Reporter: Vera Liber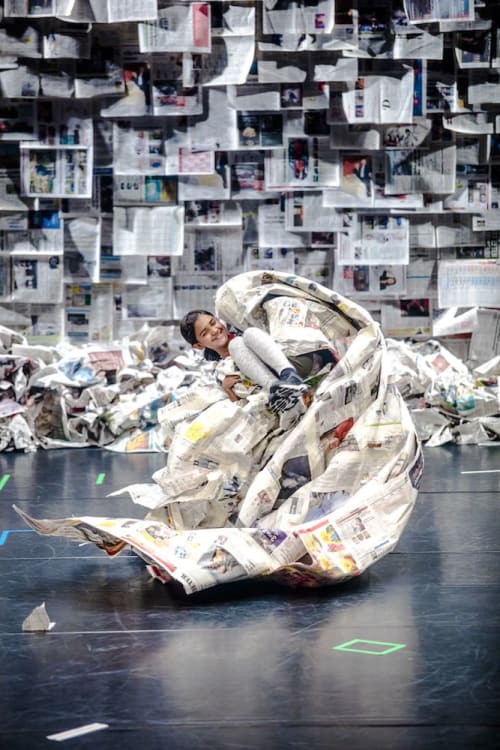 25 premières (12 UK premières and 13 new to London) and a "spectacular" opening event have been announced for The Greenwich + Docklands International Festival 2022, a free festival of outdoor arts and theatre, taking place from 26 August to 11 September 2022.
The initial highlights for its 2022 programme will include:
Peter Hudson's CHARON, a 32ft high artwork featuring Zoetrope technology at a new festival site in the Royal Docks.
House of Suarez, creators of the touring annual Vogue Ball, present House of Oak and Iron, a response to colonial history through contemporary dance and voguing at the Old Royal Naval College in Greenwich.
German artist Stephanie Lüning will unleash a tidal wave of multi-coloured foam at Greenwich Peninsula with Island of Foam: Version XVIII.
Fevered Sleep's The Sky Is Filled With Thunder is an immersive audio promenade experience in Thamesmead capturing the voices of children's hopes, fears and dreams.
The Royal Ballet in collaboration with disabled dancer Joe Powell-Main present Sleepwalker across the public spaces and waterfronts of Canary Wharf.
Using stilts and choreography, Spanish company Cia Maduixa tells the story of female migrants fighting for a place to call home in Migrare at Canary Wharf.
Crowd_Ctrl is a dance and digital collaboration between choreographer AndroidX (AKA Malick Bright), scenographers MHz and London's Dragonsquad busking crew.