House With Chicken Legs takes wing
Published: 12 June 2023
Reporter: David Upton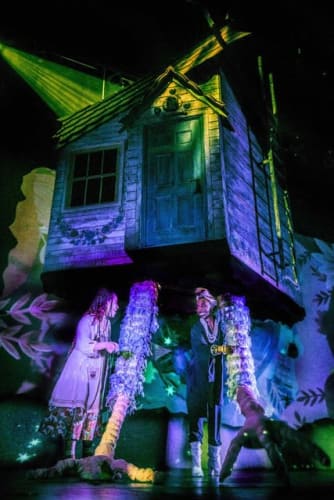 Les Enfants Terribles and HOME Manchester will present the UK première stage tour of their co-production The House With Chicken Legs this autumn.
Bringing Sophie Anderson's novel to life, this show will transport audiences to a world inspired by Baba Yaga, with puppets, live music and magic. The story follows Marinka, a young girl who dreams of a normal life, where she can stay somewhere long enough to make friends; but there's one problem: her house has chicken legs and moves on without warning.
Confirmed autumn 2023 tour venues are: York Theatre Royal (September 6–9), Oxford Playhouse (September 21–23), Theatre Royal Plymouth (October 4–7), Aberystwyth Arts Centre (October 18–20), New Theatre Royal Portsmouth (November 2–3) and The Queen's Theatre, Barnstaple (November 14–18). Further venues to be announced.
The production had its world première at HOME Manchester in 2022.