Latitude announces theatre line-up
Published: 9 May 2017
Reporter: David Chadderton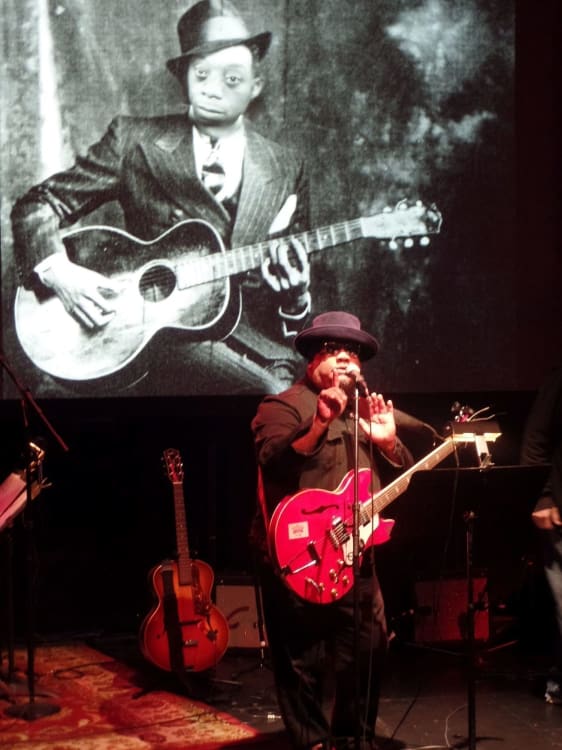 Suffolk multi-arts festival Latitude has announced the theatre productions that will be part of its 12th annual event at Henham Park, Southwold in July 2017, featuring companies such as The Old Vic, Traverse Theatre Edinburgh, Fuel's Clod Ensemble, Royal Court Theatre and Paines Plough alongside already-announced visits from Opera North, Sadler's Wells, Balletboyz and Matthew Bourne's New Adventures.
Black Honey Company's Hot Brown Honey promises "the 1920s glamour of Josephine Baker with the hyper-aesthetics of global hip-hop culture and the hot punch of black politics", whereas The Negro Problem's Notes on a Native Song provides a commentary on Trump's America through the music of James Baldwin.
The Old Vic London will bring playwright David Greig, composer Charlie Fink of Noah & The Whale and director Max Webster together for Cover My Tracks, the story of an idealistic young songwriter who sets out to write a 21st century pop masterpiece before vanishing without a trace.
Edinburgh's Traverse Theatre will present Gary McNair's Locker Room Talk, named after Trump's dismissal of some comments made by him during his election campaign, and Fuel's Clod Ensemble's On the High Road brings themes of migration, difference and intolerance in the company's Latitude debut. London's Royal Court Theatre will bring its production of Manwatching in which comedian Seann Walsh will perform from a script he won't have seen before he steps in front of the audience.
Dickie Beau's Re-Member Me is "part-documentary theatre and part-séance to 're-member' the ghosts of Hamlet past". Also on the subject of memory, Theatre Re's The Nature of Forgetting is inspired by the work of theatre director Tadeusz Kantor and focuses on recent neurobiological research and interviews with people living with dementia. Animator Paul Barritt's Cat and Mouse features bit screen cartoons and a rock 'n' roll band.
The latest Hoipolloi show from Shôn Dale-Jones is Me and Robin Hood, 201 Dance Company's Skin is a hip-hop journey of self-discovery, Last Night from Nabokov and Benin City will provide "an oral history of London's rapidly disappearing nightlife", whereas from Hull, Middle Child's "epic gig-theatre show" All We Ever Wanted Was Everything "follows two kids from Hull raised on Harry Potter, New Labour and a belief that they would be as special as their parents promised".
Gagglebabble, The Other Room and Theatr Clwyd will join forces with Sinners' Club, based on the life of Ruth Ellis, the last woman to be hanged in the UK, whereas The Believers Are But Brothers is the result of writer and theatre maker Javaad Alipoor exploring the blurry and complex world of extremists, spies, journalists and fantasists in the digital realm.
Mark Thomas will bring another work-in-progess to Latitude, this time questioning his audience for what thery think the future holds in Predictable, and Daniel Bye's new political thriller Safe House is a series of interconnected stories in which small corners of Britain declare their independence. Performance poet Luke Wright's second verse play Frankie Vah, "deals with love, loss and belief against the scuzzy backdrop of indie venues and '80s politics with a Morrissey-sized measure of heartache".
Latitude's Curator of the Arts Tania Harrison introduced the festivals' theme of "Come The Revolution, explaining, "I have invited artists and companies to explore the idea of revolution, from historical social changes to the injustices in our society today; to foster an empowered, revolutionary spirit in our audience. This theme is at the heart of our theatre programme, and emergent and established theatre makers from the UK, Europe, America and Australia, are asking the important questions.
"Notes of a Native Song tells the story of James Baldwin's life, work, and influence on Stew, while Hot Brown Honey is equal parts theatre and social activism. We're looking at gender politics with the Royal Court Theatre's Manwatching, 201 Dance Company's Skin and Holly Blakey challenging the hyper-sexualised language and dance of the music video. Dickie Beau's Fruits of the Forest and Desmond O'Connor present shows that mark the 50th anniversary of the partial decriminalisation of homosexuality.
"Across the festival, our bill showcases theatre in its most exciting guises. Fuel's Clod Ensemble come to the Theatre Arena and Cirk La Putyka present the international première of Batacchio. In The Cabaret Theatre, gig-theatre takes centre-stage as theatre meets live music and stories are given new energy.
"In our shape-shifting Faraway Forest, theatre escapes the black box and brings revolution in both spirit and format. Experience immersive soundscapes from Opera North, ethereal voices sounding between the trees, plus pop-up Live Art performances in every corner of the forest, appearing when you least expect them.
"We're delighted to welcome Sadler's Wells back to our Waterfront dance stage, which will host an array of genres, from ballet to contemporary dance to hip-hop."
Latitude Festival runs from 13 to 16 July.