London Library's fourth Writers Programme
Published: 26 June 2022
Reporter: Sandra Giorgetti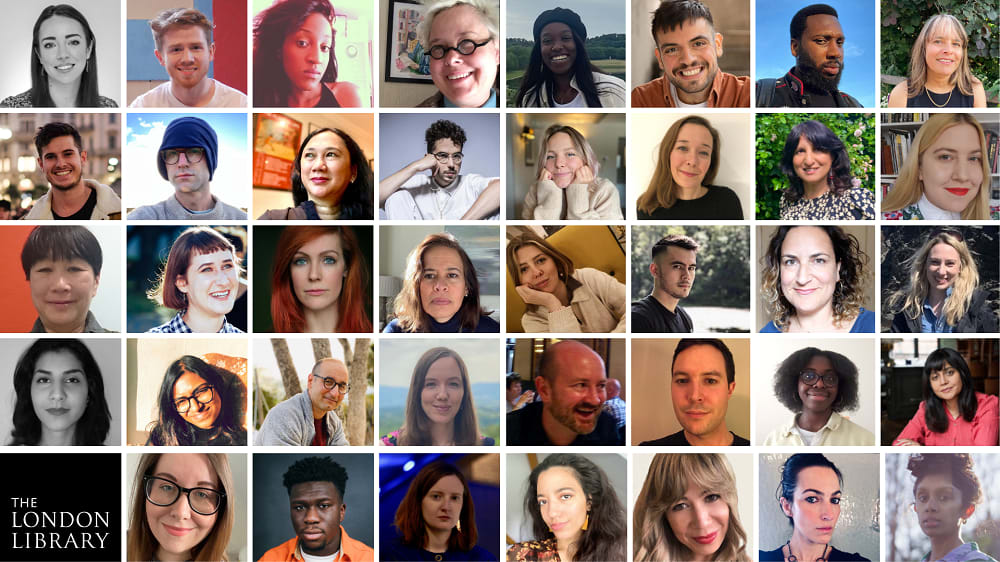 There are to be forty participants in the Emerging Writers Programme offered by The London Library.
Chosen from nearly 950 competitors by a panel of judges that included essayist Yassmin Abdel-Magied in the chair, non-fiction writer Simon Garfield, playwright and novelist Nell Leyshon, poet Rachel Long, screen and children's writer John McNally and literary agent Eli Keren, this year's cohort include seven whose work includes writing for the stage.
This fourth group come from across the globe and their work covers a wide range of topics. They will receive one year's free membership of The London Library, offering among other benefits access to the collection, use of workspaces and discounted tickets for events, and attend a programme of writing development and networking opportunities, enjoying peer support, and guidance.
Yassmin Abdel-Magied said, "it has been an absolute pleasure to chair the judging panel of this year's Emerging Writers Programme. As a panel, we were bowled over by the sheer volume and outstanding quality of submissions we received, not to mention the diversity of discipline / genre and the scope of the storytelling. Whittling down to forty was not easy but we are so excited by the talent of those we chose to be on the programme and we can't wait to see where they take their wonderful array of projects over the course of the year."
The London Library's Emerging Writers Programme is open to those who want to have a career in writing but have not yet published a full-length work of fiction, non-fiction, collection of poems, or had a full-length work professionally produced for stage or screen. They are or will be working on a project for publication or production that will benefit from use of the Library's resources.
Two participants who may face financial, health, or any other barriers that would prevent them fully accessing the Programme are offered bursaries.
More information is available online.
The London Library Emerging Writers Programme 2022/23 participants involved in theatre writing are
Jessica Edwards, a queer writer and director with credits at the Soho Theatre, Almeida and Arcola among others
Soria Hamidi, who was selected for the Kiln Theatre Young Writers Programme, the Vineyard Theatre Literary Programme and Kali Theatre Workshops 2021/22
Annie Hodson, a queer scriptwriter and playwright whose work has been shortlisted for Channel 4 Screenwriting, BBC Writersroom, the Papatango Prize, and the Funny Women Writing Award
Zia Holloway, a Script Angel scholar, winner of the BBC Writersroom Welsh Writer Award who works across a range of mediums including television, film, and theatre
Jack Stanley, a playwright whose credits include HighTide and Theatre Royal Haymarket Masterclass at Latitude Festival
Megan Smith, a theatre and TV writer, a Miniver Theatre Monologue winner, a quarter finalist for The Academy Nicholl Scholarship
Temi Majekodunmi, a trained actor whose debut play was seen at Soho Theatre as part of the Soho Rising Festival in 2022
Their fellow alumni are Jasmin Allenspach, Henrietta Bailey-King, Melanie Banim, Katie Byford, Anna Carling, Melanie Carvalho, Patrick Cash, Yasmine Dankwah, Bryn Davies, Eve Ellis, Pacifica Goddard, Miriam Gold, Gayathiri Kamalakanthan, Inigo Laguda, Nicole Lee, Fatima Luz Naeema, Harriet Matthews, Carla Montemayor, Sharanya Murali, Leeor Ohayon, JP Pangilinan O'Brien, Thomas Peermohamed Lambert, Michael Pourfar, Gita Ralleigh, Electra Rhodes, Melissa Richards, Kimberley Sheehan, Yvonne Singh, B R Rose, Sarah Stribley, Grahame Williams and Eli Zuzovsky.