Norris announces NT plans for next year and beyond
Published: 3 October 2018
Reporter: Philip Fisher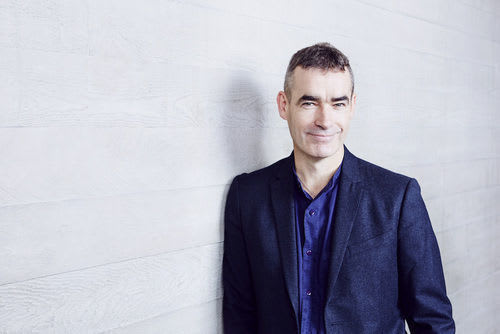 Despite some obvious concerns about the political climate surrounding the arts, where subsidies are cut in real terms almost every year as well as the potential consequences of Britain's departure from Europe, Rufus Norris's annual press conference seemed very upbeat. It helped that he could pack it with prospective highlights from the next year and more.
A potentially worrying development is the withdrawal of Travelex from their ever-popular £15 Season project. After 15 years, the company feels it is time to move on and Norris is keen to hear from others that may wish to take over and benefit from the kind of publicity that is almost impossible to buy.
Olivier Theatre
Norris himself will be directing a stage adaptation by Helen Edmundson based on Andrea Levy's award-winning novel Small Island.
Peter Gynt, by David Hare after Henrik Ibsen, will open in the Olivier Theatre in July in a co-production with Edinburgh International Festival, directed by Jonathan Kent. James McArdle stars as Peer Gynt's contemporary equivalent.
Lyttelton Theatre
Blanche McIntyre makes her NT debut directing a new version of Molière's comic masterpiece Tartuffe by John Donnelly.
As part of the celebrations for Carol Churchill's 80th birthday, her anarchic drama Top Girls will be revived under the direction of NT Associate Lyndsey Turner.
Roger Allam stars in a new revival of Githa Sowerby's Rutherford and Son directed by Polly Findlay.
One of the boldest announcements is a production of Hansard, the debut play from actor Simon Woods, which opens in September on one of the theatre's large stages. Directed by NT Associate Simon Godwin, Hansard stars Lindsay Duncan and Alex Jennings.
Inua Ellams returns to the NT in the autumn with a new play, Three Sisters, after Chekhov, in a co-production with Fuel, directed by Theatre Royal Stratford East Artistic Director Nadia Fall.
Dorfman Theatre
There could be a lot of disappointment at the decision to stage Martin Crimp's new play in the National's smallest space.
When We Have Sufficiently Tortured Each Other, Twelve Variations on Samuel Richardson's Pamela is directed by Katie Mitchell with a cast led by Cate Blanchett, who makes her National Theatre debut alongside Stephen Dillane. The 10,000 or so tickets for the run will all be sold via a ballot.
In a co-production with Steppenwolf Theatre Company, Pulitzer Prize-winning ensemble member Bruce Norris's new play Downstate comes to the NT direct from its debut at Steppenwolf, Chicago. Directed by Tony Award-winner Pam MacKinnon, the Anglo-American cast includes Steppenwolf ensemble members alongside a team of their British counterparts.
ANNA is described as a ground-breaking new sonic collaboration created by Ella Hickson and Ben and Max Ringham. It is a headphone-based sound thriller directed by Natalie Abrahami, with set and costume designed by Vicki Mortimer and movement by Anna Morrissey.
Based on the anarchic Mr Gum children's book, Mr Gum and the Dancing Bear – the Musical! will run through the summer holidays with a book and lyrics by the author, Andy Stanton, and music by Jim Fortune and is directed by Amy Hodge.
Pulitzer Prize-winner Annie Baker returns to the Dorfman Theatre with the European première of her latest play The Antipodes, directed by Lila Neugebauer, making her NT debut.
Richard Pryor on Fire, a one-man play written by and featuring Lenny Henry as the legendary American comedian, will not open until 2020 when it is to be directed by Paulette Randall.
Smart caption glasses
The NT also took the opportunity to launch its smart caption glasses, which it hopes will transform access to theatre for audiences with hearing loss.
There has been a lengthy development process with the NT's Partner for Innovation, Accenture. Audience members will be able to view captions at any performance in all three of the NT theatres, seated in any seat. The glasses display a synchronised transcript of dialogue and sound from the production directly onto the lenses of the glasses.
They are bookable from 3 October for Hadestown and War Horse and from later in the month for all shows in the new season. Journalists were given opportunity to try out the product and there have been significant development since a previous demonstration 12 months ago.
While the product now works reasonably well, it is anticipated that there will be further developments, increasing comfort and possibly the glasses will be made more compatible for those already use varifocals. Even so, they are already at a point where the benefits for those that are hard of hearing will far outweigh such minor quibbles.
Public Acts
Following the success of Pericles in the Olivier Theatre this summer, Queen's Theatre Hornchurch Artistic Director Douglas Rintoul will direct next year's Public Acts production As You Like It in a musical adaptation first seen at the Delacorte Theater, New York in 2017 as part of The Public Theater's Public Works programme.
The UK première of this version will see more than 100 community members, a small group of professional actors and cameo performance groups from across London perform together.
In 2020, the NT will partner with Cast in Doncaster for a third Public Acts production, working with community partners from the local area.
Tickets for As You Like It go on sale via the Queen's Theatre Hornchurch web site from next month.
Public Acts is inspired by Public Works, The Public Theater's programme of participatory theatre in New York.
At the Young Vic
Draw Me Close, a Virtual Reality (VR) play, will be staged at the Young Vic in early 2019. This production intends to blur the worlds of live performance, virtual reality and animation. The experience is written and directed by award-winning playwright and film maker Jordan Tannahill.
National Theatre on tour and in the West End
Away from home, the National Theatre continues to thrive. Macbeth, War Horse and LOVE all play at venues across the UK, the last-named also heading to France.
Nine Night by Natasha Gordon, who now takes her place in the cast, and a firm favourite The Curious Incident of the Dog in the Night-Time adapted by Simon Stephens from Mark Haddon's novel will both be playing in the West End during the latter part of 2018 and early next year.
National Theatre international transfers
The National Theatre's critically acclaimed production of Network, adapted by Lee Hall from the Academy Award-winning film by Paddy Chayefsky, directed by Ivo van Hove and featuring Bryan Cranston as news anchor Howard Beale, will transfer to Broadway this autumn.
The Lehman Trilogy by Stefano Massini, adapted by Ben Power and directed by Sam Mendes, will make its North American première at the Park Avenue Armory following a sold-out run at the National Theatre. Adam Godley, Ben Miles and Simon Russell Beale reprise their roles.
Following runs at the Young Vic and in the West End, The Jungle, a Good Chance Theatre co-production with the National Theatre and the Young Vic, will transfer to St Ann's Warehouse, New York.
National Theatre Live
NT Live goes from strength to strength and currently screens to 65 countries around the globe.
Frankenstein returns to international cinemas to mark the 200th anniversary of Mary Shelley's most famous novel. Both parts will be in cinemas on 22 October and 29 October.
Allelujah!, a new play by Alan Bennett, the tenth collaboration between Bennett and director Nicholas Hytner, was captured live during its recent run at the Bridge Theatre and will be in cinemas on 1 November.
NT Live travels to Nottingham Playhouse for the first time to broadcast their new production of Alan Bennett's The Madness of George III. Directed by Adam Penford, it will be screened live in cinemas on 20 November, with Olivier Award-winners Mark Gatiss as King George III and Adrian Scarborough as Dr Willis.
Simon Godwin's production of Antony & Cleopatra, with Ralph Fiennes and Sophie Okonedo in the title roles, will be broadcast live from the Olivier Theatre on 6 December.
The Almeida Theatre production of The Tragedy of King Richard the Second by William Shakespeare will be broadcast live from the Almeida on 15 January. It is directed by Joe Hill-Gibbins with Simon Russell Beale in the lead role.
David Hare's new play I'm Not Running, directed by Neil Armfield, will be broadcast live from the Lyttelton Theatre on Thursday 31 January.
Small Island, an adaptation by Helen Edmundson from Andrea Levy's Orange Prize-winning best-selling novel, will be broadcast live in 2019 with a date to be announced. Directed by Rufus Norris.