New Vic actors go without a script for documentary play
Published: 1 April 2012
Reporter: Steve Orme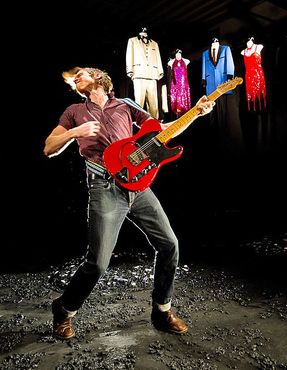 Newcastle-under-Lyme's New Vic is putting the voices of Potteries people on stage in a "ground-breaking documentary by one of the country's hottest writing talents".
Alecky Blythe has created Where Have I Been All My Life? especially for the New Vic.
The theatre's artistic director Theresa Heskins said, "For half a century we've been putting the voices of local people on stage here, so for our 50th anniversary we have something special lined up with a new documentary.
"At the heart of this story is the community of the Potteries, a Cinderella desperately hoping a fairy godmother will come along."
Blythe, whose verbatim production London Road was performed at the National Theatre last year, has spent two years researching and writing Where Have I Been All My Life?
She interviewed Stoke City footballers, pottery workers and schoolchildren before settling on talent contest Stoke's Top Talent as her subject.
Theresa Heskins added, "The New Vic documentaries of the past were about working lives, about industry and solidarity. The comparison with this new piece, where 15 minutes of fame is what the characters aspire to, saddened me at first. But as I worked on it I began to realise that it's a play about regeneration and about hope."
A cast of nine, including New Vic favourite Michael Hugo, have had no script to learn—each actor will wear an earpiece during performances and will be fed recorded interviews which they have to imitate live.
"The technique is not like watching an actor acting, it's more like watching a medium channelling a spirit," said Theresa Heskins. "It's clearly real speech but with a spotlight thrown upon it, making it both heartbreaking and funny at the same time."
Where Have I Been All My Life? runs at the New Vic from Saturday (7 April) until Saturday, 28 April.