Nominations for Wales Theatre Awards 2018
Published: 16 January 2018
Reporter: Othniel Smith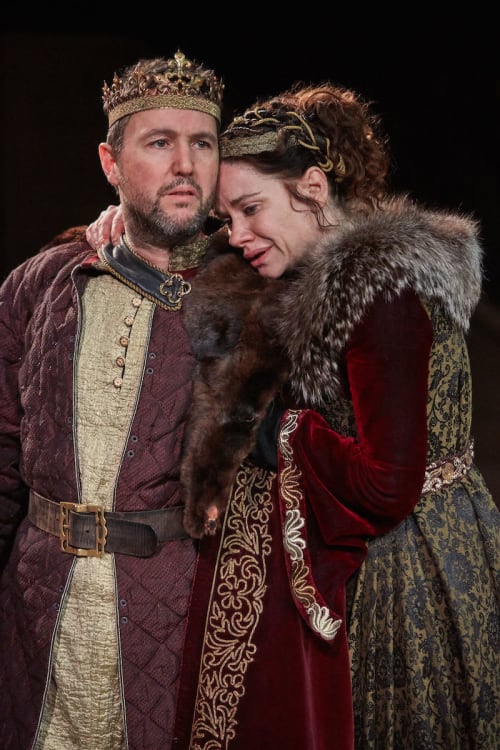 The nominations for the 2018 Wales Theatre Awards were revealed on 15 January, during an informal event which took place at the Wales Millennium Centre in Cardiff.
Representatives of several nominated companies were in attendance, as were a number of former winners, including the 2015 award-winner for Best Male Performance in the English Language, Daniel Llewelyn-Williams, who kicked off the evening with a recitation of Rhyfel / War by tragic World War I poet Hedd Wynn, to mark the centenary of the final year of the conflict.
The shortlisting was done by 40 critics from a wide variety of print and online publications (including the British Theatre Guide), the final lists drawn from 563 individual nominations made for 141 shows and 239 individual artists.
Prominent nominees include Theatr Clwyd's Uncle Vanya, Theatr Genedlaethol Cymru's Welsh-language Macbeth and the new opera based on Gwenlyn Parry's classic play Y Tŵr.
There will be new awards for Best Touring Productions in both Welsh and English, and as well as the categories listed below, there will be a new Wales And The World award for an artist or company who has represented Wales beyond our borders. There will also be a Special Recognition Award.
The awards ceremony will take place on Saturday 27 January at The Riverfront, Newport.
The shortlists are as follows:
Best Design And / Or Costume
Buddug James Jones & Anneliese Mowbray, Gwledd Gwyddno / The Sea King's Feast, Cwmni Theatr Arad Goch
Lucy Osborne, Uncle Vanya, Theatr Clwyd & Sheffield Theatres
Simon Banham, The Golden Dragon, Music Theatre Wales
Mark Bailey, Escape the Scaffold, The Other Room, Mongrel Thumb & Theatre 503
Lois Prys, Yfory, Theatr Bara Caws
Best Director
Rachel O'Riordan, Killology, Sherman Theatre & Royal Court Theatre
Simon Harris, Little Wolf, Lucid Theatre
Chris Durnall, Nether, Company of Sirens, good cop bad cop & Chapter
Tamara Harvey, Uncle Vanya, Theatr Clwyd & Sheffield Theatres
Marc Rees & Caroline Finn, P.A.R.A.D.E., National Dance Company Wales & Marc Rees with BBC National Orchestra of Wales, Rubicon Dance & Dawns i Bawb
Best Lighting
Katy Morison, Sinners Club, Gagglebabble, Theatr Clwyd & The Other Room
Jane Lalljee, Little Wolf, Lucid Theatre
Joe Fletcher, Macbeth, Theatr Genedlaethol Cymru in partnership with Cadw and with support from Chapter
Ric Mountjoy, Uncle Vanya, Theatr Clwyd & Sheffield Theatres
Chris Illingsworth, Shadow Aspect, Ballet Cymru
Best Sound
John Tyrrell, From the House of the Dead, Welsh National Opera
Daf James, Tiger Bay, Wales Millennium Centre in association with Cape Town Opera
Gareth Glyn, Wythnos yng Nghymru Fydd, Opra Cymru, Bangor University, Pontio, Ensemble Cymru & Young Films
Lucy Rivers, Sinners Club, Gagglebabble, Theatr Clwyd & The Other Room
Catrin Finch, The Light Princess, Ballet Cymru, Catrin Finch & The Riverfront
Best Ensemble
Tiger Bay, Wales Millennium Centre in association with Cape Town Opera
Granton Street, Fluellen Theatre Company
One Flew Over the Cuckoo's Nest, Torch Theatre Company
Junkyard, Theatr Clwyd, Headlong, Bristol Old Vic & Rose Theatre Kingston
Gwledd Gwyddno / The Sea King's Feast, Cwmni Theatr Arad Goch
Best Choreographer
Gwyn Emberton, Raft, Gwyn Emberton Dance, Aberystwyth Arts Centre
Marc Rees & Caroline Finn, P.A.R.A.D.E., National Dance Company Wales & Marc Rees with BBC National Orchestra of Wales, Rubicon Dance & Dawns i Bawb
Marcos Morau, Tundra, National Dance Company Wales
Tim Podesta, Shadow Aspect, Ballet Cymru
Lisa Spaull, The Flying Bedroom, Little Light, Venue Cymru & Firefly Press
Best Female Dance Artist
Anna Pujol, The Light Princess, Ballet Cymru, Catrin Finch & The Riverfront
Elena Thomas, Profundis, National Dance Company Wales
Jo Fong, Ways of Being Together, Jo Fong supported by Chapter
Mara Galeazzi, Shadow Aspect, Ballet Cymru
Camille Giraudeau, The Green House, National Dance Company Wales
Best Male Dance Artist
Andrea Maria Battaggia, The Light Princess, Ballet Cymru, Catrin Finch & The Riverfront
Ed Myhill, Animatorium, National Dance Company Wales
Matteo Marfoglia, Raft, Gwyn Emberton Dance, Aberystwyth Arts Centre
Robbie Moorcroft, Shadow Aspect, Ballet Cymru
Gwyn Emberton, Babulus, ICoDaCo, Gwyn Emberton & ilDance
Best Dance Production
Raft, Gwyn Emberton Dance, Aberystwyth Arts Centre
Shadow Aspect, Ballet Cymru
The Light Princess, Ballet Cymru, Catrin Finch & The Riverfront
Tundra, National Dance Company Wales
The Green House, National Dance Company Wales
Best Production In The Welsh Language
Macbeth, Theatr Genedlaethol Cymru in partnership with Cadw and with support from Chapter
Wythnos yng Nghymru Fydd, Opra Cymru, Bangor University, Pontio, Ensemble Cymru & Young Films
Yfory, Theatr Bara Caws
Y Tŵr, Music Theatre Wales & Theatr Genedlaethol Cymru
Hollti, Theatr Genedlaethol Cymru
Best Performance In The Welsh Language – Male
Rhodri Miles, Sieiloc, Rhodri Miles
Richard Lynch, Macbeth, Theatr Genedlaethol Cymru in partnership with Cadw and with support from Chapter
Siôn Pritchard, Hollti, Theatr Genedlaethol Cymru
Gareth John Bale, Macbeth, Theatr Genedlaethol Cymru in partnership with Cadw and with support from Chapter
Rhodri Evan, Yfory, Theatr Bara Caws
Best Performance In The Welsh Language - Female
Ffion Dafis, Macbeth, Theatr Genedlaethol Cymru in partnership with Cadw and with support from Chapter
Siw Hughes, Hollti, Theatr Genedlaethol Cymru
Caryl Hughes, Y Tŵr, Music Theatre Wales & Theatr Genedlaethol Cymru
Lisa Jên Brown, Gair o Gariad, Theatr Bara Caws, Fuel & Uninvited Guests
Caryl Morgan, Yfory, Theatr Bara Caws
Best Male In An Opera Production
Brindley Sharratt, Der Rosenkavalier, Welsh National Opera & Theater Magdeburg
Simon Bailey, From the House of the Dead, Welsh National Opera
Tom Randle, Le Vin herbé, Welsh National Opera
Robyn Lyn Evans, Wythnos yng Nghymru Fydd, Opra Cymru, Bangor University, Pontio, Ensemble Cymru & Young Films
Alan Oke, From the House of the Dead, Welsh National Opera
Best Opera Production
Der Rosenkavalier, Welsh National Opera & Theater Magdeburg
Le Vin herbé, Welsh National Opera / Opera Cenedlaethol Cymru
Y Tŵr, Music Theatre Wales & Theatr Genedlaethol Cymru
The Golden Dragon, Music Theatre Wales
The World's Wife, Welsh National Opera, Taliesin Arts Centre, Echo Forest, The Mavron Quartet
Best Female In An Opera Production
Caitlin Hulcup, Le Vin herbé, Welsh National Opera
Natalya Romaniw, Eugene Onegin, Welsh National Opera
Rebecca Evans, Der Rosenkavalier, Welsh National Opera & Theater Magdeburg
Amanda Forbes, The World's Wife, Welsh National Opera, Taliesin Arts Centre, Echo Forest, The Mavron Quartet
Caryl Hughes, Y Tŵr, Music Theatre Wales & Theatr Genedlaethol Cymru
Best Production In The English Language
Seanmhair, The Other Room
Scarlett, Theatr Clwyd & Hampstead Theatre Downstairs
Uncle Vanya, Theatr Clwyd & Sheffield Theatres
Sugar Baby, Dirty Protest supported by Chapter
Black Mountain, Theatre Clwyd, Paines Plough & Orange Tree Theatre
Best Female Performance In The English Language
Eria-Lynn Hunter, Scarlett, Theatr Clwyd & Hampstead Theatre Downstairs
Hannah McPake, Seanmhair, The Other Room
Lucy Rivers, Sinners Club, Gagglebabble, Theatr Clwyd & The Other Room
Rosie Sheehy, Uncle Vanya, Theatr Clwyd & Sheffield Theatres
Kate Ashfield, Scarlett, Theatr Clwyd & Hampstead Theatre Downstairs
Best Male Performance In The English Language
Jamie Ballard, Uncle Vanya, Theatr Clwyd & Sheffield Theatres
Rhodri Meilir, How My Light is Spent, Royal Exchange Theatre, Theatre by the Lake & Sherman Theatre
Sion Daniel Young, Killology, Sherman Theatre & Royal Court Theatre
Steffan Donnelly, My Body Welsh, Cwmni Theatr Invertigo Theatre Company, The Conker Group & Pontio
James Scannell, Granton Street, Fluellen Theatre Company / Cwmni Theatr Fluellen
Best Playwright In The English Language
Alan Harris, How My Light is Spent, Royal Exchange Theatre, Theatre by the Lake and Sherman Theatre
Gary Owen, Killology, Sherman Theatre & Royal Court Theatre
Meredydd Barker, Nye & Jennie, Theatr na nÓg & Aneurin Leisure
Owen Sheers, Pink Mist, Bristol Old Vic
Simon Harris, Little Wolf, Lucid Theatre
Best Playwright In The Welsh Language
Manon Steffan Ros, Mwgsi, Cwmni'r Frân Wen
Manon Wyn Williams, Hollti, Theatr Genedlaethol Cymru
Siôn Eirian, Yfory, Theatr Bara Caws
Hefin Robinson, Estron, Theatr Genedlaethol Cymru in partnership with the National Eisteddfod of Wales
Gwyn Thomas, Macbeth, Theatr Genedlaethol Cymru in partnership with Cadw and with support from Chapter
Best Touring Production (Welsh)
Sieiloc, Rhodri Miles
Hollti, Theatr Genedlaethol Cymru
Y Tŵr, Music Theatre Wales & Theatr Genedlaethol Cymru
Wythnos yng Nghymru Fydd, Opra Cymru, Bangor University, Pontio, Ensemble Cymru & Young Films
Yfory, Theatr Bara Caws
Best Touring Production (English)
Little Wolf, Lucid Theatre
Granton Street, Fluellen Theatre Company
How To Win Against History, Àine Flanagan Productions, Seiriol Davies & the Young Vic, Wales tour supported by Pontio
The Bear, Mid Wales Opera
My Body Welsh, Cwmni Theatr Invertigo Theatre Company, The Conker Group & Pontio
Best Show For Children And Young People (Welsh)
Mwgsi, Cwmni'r Frân Wen
Nid Fi / Not Me, Cwmni Theatr Arad Goch
Deffro'r Gwanwyn, Canolfan Berfformio Cymru, University of Wales Trinity St David
Culhwch ac Olwen, Cwmni Mega
Hedd Wyn - Pam ein bod ni'n cofio / Hedd Wyn - Why we must never forget, Mewn Cymeriad / In Character
Best Show For Children And Young People (English)
You've Got Dragons, Taking Flight Theatre Company with Creu Cymru & Abertillery Met
Eye of the Storm, Theatr na nÓg in association with Taliesin Arts Centre
Twenty16, Theatr Iolo & The Welfare Ystradgynlais
The Wind in the Willows, Sherman Theatre
The Flying Bedroom, Little Light, Venue Cymru & Firefly Press