NORTH Goes on a Festival Tour
Published: 12 June 2013
Reporter: Peter Lathan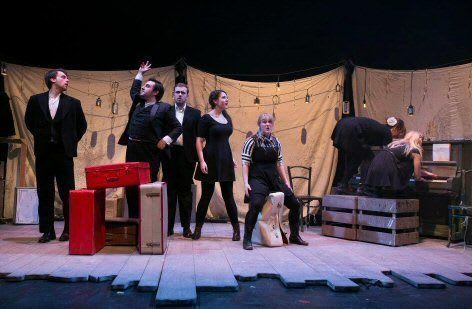 In March the BTG reviewed The Man Who Thought the Moon Would Fall out of the Sky, a showcase for a new company made up of seven recent graduates, emerging artists and actors. The company, NORTH, was led by Northern Stage's Creative Associate, Mark Calvert, and gave its members a three month opportunity to create work, develop skills and meet some of the region's most important creative minds.
Now the seven members—Michael Blair, Alice Blundell, Maria Crocker, Meghan Doyle, Stan Hodgson, Alexandra Tahnée and George Williams—have formally established themselves as continuing company and are to tour the production the three festivals later this year.
This "Summer Festival Tour" includes performances in the Theatre Arena at the Latitude Festival, a show at Northern Stage's Edinburgh Fringe venue, St Stephen's, before finishing off on the Isle of Wight in the Bestival Amphitheatre.
Since finishing their ten-week residency, the company members have been keen to continue their work and make the most of the opportunity they have been given. This has included musical gigs, curating events and "NORTH Night", a pilot networking event designed to engage young, emerging artists in the region.
Company member Stan Hodgson said, "We didn't want a 'suit and business cards' type of networking, but an informal sharing of work and ideas—with a drink in hand! We were pleased with the outcome and hope to turn it into a regular event very shortly."
With this national attention comes an urgent need for fundraising and organisation, and the group knows that the hard work is only just beginning.
"All of us in NORTH are prepared to roll up our selves and muck in," Maria Crocker explained. "We need to take it one step at a time and continue to stand by what we believe in—we are determined to make it happen."