Northern Stage announces Edinburgh Fringe programme
Published: 19 May 2015
Reporter: Peter Lathan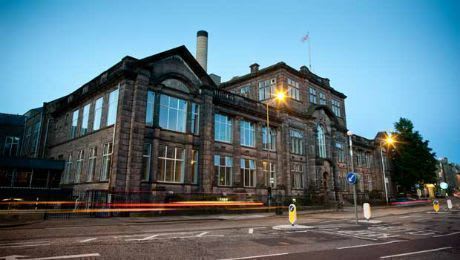 Newcastle's Northern Stage has announced the shows which will be part of its fourth visit to the Edinburgh Fringe this August.
"This year's Northern Stage programme is a hugely exciting mix of established and new artists from across the North," said artistic director Lorne Campbell. "Theatrical and political, the programme has some exhilarating perspectives on globalisation, multiculturalism, personal political responsibility and, as ever, our rights and responsibilities to rage against the machine."
This year's Edinburgh venue will be the old veterinary rooms of Summerhall, following the successful collaboration with the venue in 2014 presenting Paines Plough's Roundabout. The programme will run throughout the Festival, from 8 to 30 August.
The shows are:
Cinema
ZENDEH
August 1978. Cinema Rex fire, Abadan, Iran. Four hundred and twenty-two dead. The year of Superman, Saturday Night Fever and an act of terror that sparked a revolution. Shahrzad—feral cat, teller of tales—pleads with Death for one more life. To have another saucer of milk. To tell the stories of the dead.
Key Change
Open Clasp Theatre Company in association with Live Theatre
Devised by women from HMP YOI Low Newton and originally toured to male prisons, Key Change is a raw and illuminating portrayal of women in prison, using only a few chairs, a ghetto blaster and four rolls of masking tape. Directed by Laura Lindow, written by Catrina McHugh and developed through a Dilly Arts commission, Key Change was named the BTG's North East's Best Devised Piece in 2014.
Going Viral
An ARC Production written and performed by Daniel Bye
A new virus has broken out. Everyone in the world starts weeping. What now? Going Viral is a show about how things spread. Drawing on the science of epidemics, it explores the spread of disease, of panic, of ideas. It shows how our society reacts, and how our connected world makes us all more vulnerable, and more human. Going Viral is a new development in Bye's trademark blend of comedy, storytelling and performance lecture.
Human Resources
Hannah Jane Walker and Chris Thorpe
You're the kind of person who never backs down from a fight. You were the kind of kid who licked the iron. The stories become who you are. Human resources, the brand new work from the award-winning collaboration between poet Hannah Jane Walker and theatre maker Chris Thorpe, looks at how useful that is. The company's previous collaborations include Fringe First-winning The Oh F**k Moment (2011) and I Wish I Was Lonely (2013).
The Paradise Project
Third Angel
The latest work from Sheffield-based performance company Third Angel in collaboration with mala voadora (Lisbon) imagines a place better than where we are. A place where everyday they come in and try again. They try to figure out how to live together. They start to build something that will never be completed, at least not within their own life times. And everyday it works. Or it doesn't. The Paradise Project is a new work about following instructions, inventing your own rules, and trying.
My Name Is…
Tamasha
A verbatim work that tells the real story behind the headlines of 2006. When Gaby disappeared from her Scottish home, it was assumed that her Pakistani father had kidnapped her, until it emerged that Gaby may have fled of her own accord. To her mother Suzy's distress, Gaby declared, "my name is Ghazala," and turned her back on Gaby and, seemingly, the West.
Five Feet in Front (The Ballad of Little Johnnie Wylo)
The Letter Room
Struggle, survival, sex and live music brewed up into a foot-stomping, bath-blasting, bone-shaking hoedown. A clock, a town, a sunrise on an empty open coffin and the wind. The wind who's dead set on sticking someone in it by sunset. Down in the dust bowl, the air's so thick folk just can't see what's coming their way anymore, all 'cept Johnnie, little Johnnie Wylo. A wild and dark and funny tale about hope and daring to have it in the land of the downtrodden.
(The Letter Room is the company which arose from Northern Stage's first NORTH programme for up and coming young actors from the north east.)
Here Is the News from Over There (Over There Is the News from Here)
Northern Stage
(Closes on 29 August)
A borderless twitter ballad fresh from the Middle East. Bringing together writers and performers from all over the Middle East and UK, the latest work from the team behind The Bloody Great Border Ballad will fashion a new story from a tapestry of tweets, music, and storytelling, creating an epic new ballad over the course of 22 frantic fringe nights. This work looks at the personal stories often lost behind the headlines, and celebrates the poetry of the ordinary.