Northern Stage Returns to Edinburgh
Published: 30 May 2013
Reporter: Peter Lathan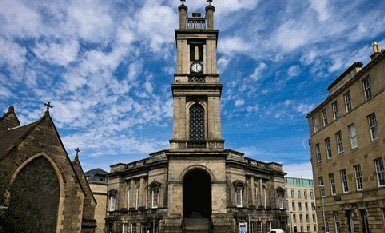 Newcastle's Northern Stage will return to the Edinburgh Fringe in 2013, again taking over St Stephen's to showcase to showcase some of the North of England's leading theatre makers.
From 3rd to 24th August the building will be transformed into two specially created performance spaces for the residency, and will play host to over ten performances and events.
Northern Stage's new artistic director Lorne Campbell will present his new work The Bloody Great Border Ballad Project in the venue's main performance space, Stage One. The performance invites different guests each night to perform a short piece that forms part of an epic ballad, built across the 19 nights of the festival. With an open brief as to what these may entail, artists are free to re-interpret and reconstruct the form, exploiting its potential as folk-art to create direct, poetic, contemporary and political work. Collaborators on the project incorporate some of the most exciting names in current performance making, with confirmed contributors including Chris Thorpe, Dan Bye, Lucy Ellinson, Alex Kelly, Kieran Hurley and Cora Bissett.
The Bloody Great Border Ballad Project runs on 3-5, 7-12, 14-19, 21-24 August.
Also in the programme are:
Tom Walton with When We Embraced (3-7 August) in which audience members assume the role of the performer in this work about the details in life. (From ARC Stockton)
Daniel Bye in How to Occupy an Oil Rig (3-24 August) - a "playful and provocative contemplation on Protest." (Middlesbrough)
withWings in If Room Enough (3-24 August), a physical theatre retelling of Shakespeare's The Tempest (Giggleswick, Yorks)
Royal Exchange, Manchester presents There Has Possibly Been an Incident by Chris Thorpe (3-24 August)
The Paper Birds with their tenth anniversary show On The One Hand (3-24 August) - the inevitable journey that our minds and bodies undertake from birth to death. (Leeds)
Alistair McDowall's Captain Amazing, produced by Live Theatre, Newcastle (3-12 August). "My dad is a superhero. No one else knows 'cos it has to stay a secret."
Kate Craddock in The GB Project (8-24 August). An epic tale told on an intimate scale, inspired by maverick British adventurer Gertrude Bell. (Newcastle)
Third Angel presents Cape Wrath (9-24 August). Storytelling performed inside a minibus. (Sheffield)
Hannah Nicklin in A Conversation with my Father (14-24 August). A story about Hannah Nicklin's Dad – a retired policeman – and her, a protestor. (Stockton/Bradford)
NORTH in The Man who Thought The Moon Would Fall Out Of The Sky (20 August). A man fascinated by the moon. (Northern Stage, Newcastle)
Make. Do. And Mend (19 August) "A gathering of the many kinds of people that make up the remarkable community of the Fringe to address our problems and to act. Starting at St Stephen's and ending at Forest Fringe (with a jaunt along the way including a new work created by Alex Kelly).2 (Northern Stage and Forest Fringe)
Live Theatre: Be A Playwright (12 August) A workshop introduction to Live Theatre's online playwriting course.