Panto News: April 2012
Published: 20 April 2012
Reporter: Simon Sladen
Last month I wrote that 2012 is a special year for Pantoland as it marks the bicentenary of the publication of Kinder- und Hausmärchen by the Brothers Grimm. But 2012 is an extra special year due to another anniversary: on October 18th the current and fourth theatre at Drury Lane will celebrate 200 years of existence. The Theatre Royal Drury Lane, currently home to fairytale musical Shrek, is an important venue in the history of modern British pantomime as this was where Augustus Harris made his mark on the genre and introduced Dan Leno's Dame to the world.
Although many primarily associate Dan Leno with the Dame role, he only appeared as Dame ten times in a total of eighteen pantomimes. This year Paul Morse celebrates his ninth year as Dame, so will soon match Leno's Damehood when he dons a range of outlandish frocks alongside Ian Ganderton as Ugly Sister in Crewe for Imagine Theatre.
But just a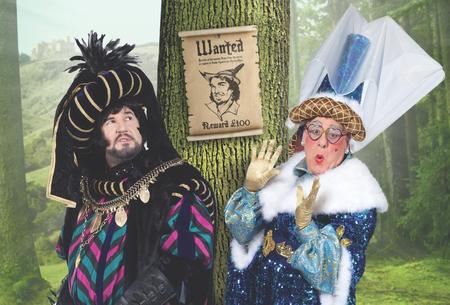 s Leno appeared in other pantomime roles, such as Idle Jack and Reggie the Babe, this year John Elkington, Nottingham Playhouse's resident Dame, will swap boobs for boos as he takes on the villainous role of the Sheriff of Nottingham alongside Kenneth Alan Taylor, who returns to the Playhouse to celebrate his 29th panto at the theatre in Robin Hood and Babes in the Wood.
Alan Taylor's first pantomime at the Nottingham Playhouse was in 1983 and this year the Lyric Hammersmith's Artistic Director Sean Holmes, who decided to bring panto back to the venue four years ago, will direct his first for the venue, Cinderella, with Julie Atherton as Cinderella and Stevie Webb as Buttons. This will be Webb's third Lyric panto season performing and first as Creative Associate.
2012 will see Andrew Pollard's second year of writing for the Watford Palace, where Mother Goose will grace the stage, whilst the season will also see his writing debut for the Salisbury Playhouse. This year the Playhouse will present Sleeping Beauty and will be directed and designed by Joyce Branagh and Keith Orton who used to write, direct and design at the Watford Palace between 2005 and 2008.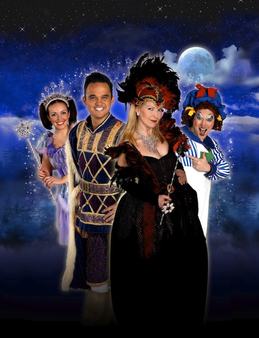 Sleeping Beauty has enjoyed somewhat of a resurgence since Qdos produced their version of the tale at the Birmingham Hippodrome in 2009. The Gala, Durham and New Wolsey, Ipswich will present the title this year, whilst Maureen Nolan appears as Carabosse at the Palace Theatre, Redditch for Paul Holman Productions. Evolution Productions have also announced full casting for their version of Sleeping Beauty at the Marlowe Theatre, Canterbury which will feature Toyah Willcox as Carabosse, Gareth Gates as the Prince, Ben Roddy as the Dame, Lloyd Hollett as the Storyteller, Katrina Bryan as the Fairy and Faye Brookes as Sleeping Beauty herself.
Sleeping Beauty seems to be more popular than ever and with nothing set in stone until opening night, Hull's New Theatre have announced that they are switching from Jack and the Beanstalk to Sleeping Beauty along with the Chuckle Brothers as previously announced.
However, just as Prince Charming often pops up in both Cinderella and Snow White, there is another pantomime title in which the Principal Girl is often called Beauty or Belle. That pantomime is, of course, Beauty and the Beast and can be seen at the Shaw Theatre, London and in rock 'n' roll form at the Stafford Gatehouse over panto season 2012, whilst Craig Phillips plays Gaston for Paul Holman Associates at the Spa, Bridlington.
Female led narratives appear to have overtaken their male counterparts in recent years and due to the Grimm bicentenary Snow White and the Seven Dwarves is proving a popular choice for 2012, also influenced, perhaps, by films Mirror, Mirror and Snow White and the Huntsman, not forgetting Channel 5's Once Upon A Time. Pantomime is constantly evolving and it will be interesting to see whether these new interpretations and versions of the tale will have the same effect on the genre that Disney's movie versions have had.
Chris Harris and Jon Monie return to the Theatre Royal Bath as Dame and Comic in UK Productions' Snow White, whilst Simon Bashford and Craig Glover appear as Snow White's Dame in Dunstable and Kilmarnock respectively. The Millennium Forum, Derry will also present the tale, whilst in Broxbourne Denise Nolan is set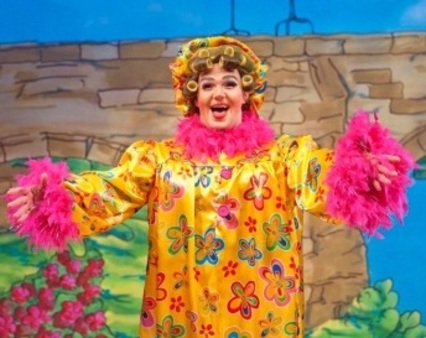 to reprise her 2007 Wicked Queen at the Civic Hall for Paul Holman Associates. Benidorm star Janine Duvitsky will also play the Wicked Queen in Tunbridge Well's 2012 pantomime Snow White, alongside Chris Pizzey and Nick Wilton as the Comic and Dame.
Of course, the most famous of all female led pantomime narratives is that of Cinderella, which can be seen at Telford's Oakengates Theate, the Tivoli Theatre, Wimbourne and the Corn Exchange Newbury this season. After last year's Aladdin by Pelé Productions, First Family Entertainment return to the Regents Theatre, Stoke-on-Trent, complete with Stoke favourite Jonathan Wilkes as Buttons and Christian Patterson. Having played the title role last year in Canterbury for Evolution Productions, Kate Quinnell will reprise the part at the Sheffield Lyceum alongside regular Dame Damian Williams, who appears as Buttons.
Evolution Productions will also be presenting Cinderella in Chatham, where EastEnders' Heather Trott aka Cheryl Fergison will play the Fairy Godmother, whilst at the Blackpool Grand Emmerdale's Aaron Livesy, Danny Miller, takes on the role of Prince Charming. One-time EastEnder Bobby Davro is set to return to Northampton as Buttons after last year's success at Wishee Washee and for those who prefer their pantomimes a little more adult, Jim Davidson's new Scottish production of Sinderella comes to the Glasgow Pavilion this summer from 23rd May - 9th June.
Pantomimes have a strange affinity with vegetables and just as Cinderella relies upon a pumpkin for transportation to the ball, fellow panto pal Jack requires magic beans to transport him up to cloudland by way of a beanstalk. Last seen as Widow Twankey in Shrewbury's 2011 panto Aladdin, Brad Fitt returns to the venue as Dame Trott in Jack and the Beanstalk, whilst at the Theatre Royal Windsor Kevin Cruise and Stephen Blakely also return in what will be their third panto season together.
Ted Robbins and the Harper Brothers will appear in the title at the Charter House Preston, whilst Postman Pat makes special delivery at the Marine Hall, Fleetwood for Duo Entertainment. The tale of magic beans will also take to the stages of the Chesterfield Pomegranate Theatre, Weymouth Pavilion and Liverpool Everyman, but perhaps the production everyone's eyes will be on is that of the Mayflower, Southampton where Julian Clary will play the Spirit of the Beans in a cast that includes Nigel Havers as Fleshcreep, Paul Zerdin as Simple Simon and Lee Mead as Jack. The Mayflower's Jack and the Beanstalk will be one of the largest pantomimes in the country this year, given the Mayflower's 2,300 capacity and Qdos are set to pull out all the stops returning to the venue after an absence of seven years. A pantomime of superlative proportions, Jack and the Beanstalk will also be the latest to open with performances announced from the 22nd December 2012. However, if you can't wait that long, the title can be seen daily from 27th July to 2nd September aboard Brittany Ferries's St Malo to Portsmouth route courtesy of Boogie Management.
Sea adventures are the staple of many a pantomime tale; Dick Whittington, Robinson Crusoe and, of course,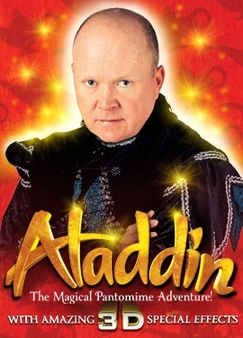 Peter Pan. Setting sail aboard Captain Hook's pirate ship in Llandudno for the 2012 season will be panto regular John Evans as Smee, a role he played at the theatre in 2007. Joining him at Venue Cymru is Barney Harwood, an experienced Peter Pan, whilst in Derby Jason Sutton plays Dame Able Mabel at the Assembly Rooms. The title has also been announced as the Lighthouse Kettering's 2012 festive show to be produced by Paul Hammond Productions, whilst First Family Entertainment return to the Manchester Opera House with David Hasselhoff in what will be his third Hook for the company.
If you want to appear in pantomime this Christmas and rub shoulder with the stars of stage and screen, then make sure you check out the British Theatre Guide's Panto Auditions and Technical Positions pages. Pantomime may run over the festive period, but as you will notice, auditions happen all year round, with the Theatre Royal Winchester holding their Junior Ensemble auditions for this year's panto Aladdin on Sunday 13th May.
Others theatres to have announced Aladdin this month include Poole Lighthouse, Theatre Colwyn and the Corn Exchange, Kings Lynn. Colin Ridgewell returns to the Elgiva Theatre, Chesham as Widow Twankey, EastEnder Steve McFadden plays Abanazar at Dartford, whilst at Theatre Stiwt, Wales, Rugby and Big Brother star Gareth Thomas makes his pantomime debut as the Genie of the Lamp.
Next month we'll nearly be halfway through the year and there are only a handful of theatres to still announce their titles. In the meantime, you can contribute to the pantomime dialogue on Twitter where panto hashtagging is taking the Twittersphere by storm. Below you will find a list of theatres who have already chosen their hashtags for the season; let us know if you spot any more. Happy tweeting and don't forget to follow us @BritTheatreGuid for all the latest theatre news and reviews.
Photos: The cast of Evolution Productions's 'Sleeping Beauty' at the Marlowe Theatre, Canterbury; John Elkington and Kenneth Alan Taylor in 'Robin Hood and the Babes in the Wood' at Nottingham Playhouse; Craig Glover as Dame (photo credit: Douglas Robertson); Steve McFadden as Abanazar in Qdos' 'Aladdin' at Orchard Theatre, Dartford