Shrek the Musical
Book and lyrics by David Lindsay-Abaire, music by Jeanine Tesori
Theatre Royal Drury Lane
(2011)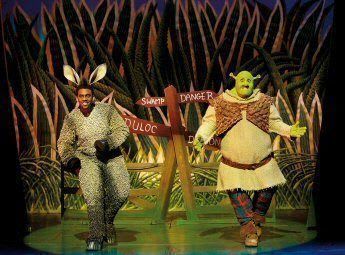 Shrek in musical form delivers pretty much exactly what fans of the four film cycle will be paying their hard-earned cash to see. The plot faithfully follows the original movie, as do the characterisations down to the accents and, up to a point, appearances.
For the uninitiated, though they are unlikely to end up in Drury Lane, Shrek is a tubby, green ogre with funny ears (which are inevitably available from the merchandisers) and an inferiority complex.
A major problem for those conceiving a stage version is that one of the film's biggest attractions is Dreamworks' use of often stunning, vibrantly bright and colourful animation.
By comparison, Tim Hatley's design for this Broadway import, co-directed by Jason Moore and Rob Ashford, uses little high tech equipment. Instead, it relies on more traditional design values featuring cartoon-style screens and colourful costumes.
The highlight is a dragon that could have been borrowed from New Year celebrations just up the road in Chinatown and which is operated by no fewer than four burly puppeteers.
The love story is typical romcom fare with a happy ending guaranteed. Its central figure is a rather sweet-natured ogre who, for whatever reason, has all the personality but none of the best songs. He is embodied by Nigel Lindsay, who must lose several pounds every night in a green fat suit and is obliged to imitate Mike Myers' version of a Scottish accent.
He has swamp problems, as a host of disgruntled fairy tale favourites are evicted and occupy his land. They arrive at the same time as Richard Blackwood playing an ornery, overly-human Donkey, complete with Eddie Murphy accent. Whereas the other characters look the part, for obvious reasons this actor is obliged to walk around on two feet and, but for the ears, looks like one of those charity collectors dressed in an animal suit.
The evil landlord is Lord Farquaad. Nigel Harman drew the short straw (pun entirely intended) when he landed this part. As His Lordship is only about 3 feet tall, poor old Harman spends much of the evening shuffling around on his knees, over which cleverly-designed teeny legs have been placed.
He sends the strangely matched duo of Shrek and Donkey off on a quest for his bride, the beautiful Princess Fiona. She is played by one of those contemporary stage phenomena, the celebrity draw whose main claim to fame is her fame.
Britain's Got Talent judge Amanda Holden proves that she has Got Talent, showing effortless ability to get laughs, if not always that subtly, sing attractively, boogie and tap dance.
Jeanine Tesori's music tends to be light-hearted, catchy pop, typified by the opening song, Big Bright Beautiful World, while most of the choreography smacks of children's television. Amanda Holden gets most of the best tunes, as befits a fairy tale princess, and peaks in a powerful trio with two younger Princess Fionas, I Know it's Today.
Shrek the Musical is good, harmless if not artistically ambitious fun and will undoubtedly be a hit with young families or grandparents looking to ingratiate themselves with the little ones.
It is also practically unique in willingly accepting children from 5 upwards with a great chance that even the smallest Shrek fans will be entranced for the full 2½ hours.
Reviewer: Philip Fisher