Pantomime Awards 2023
Published: 19 March 2023
Reporter: Sandra Giorgetti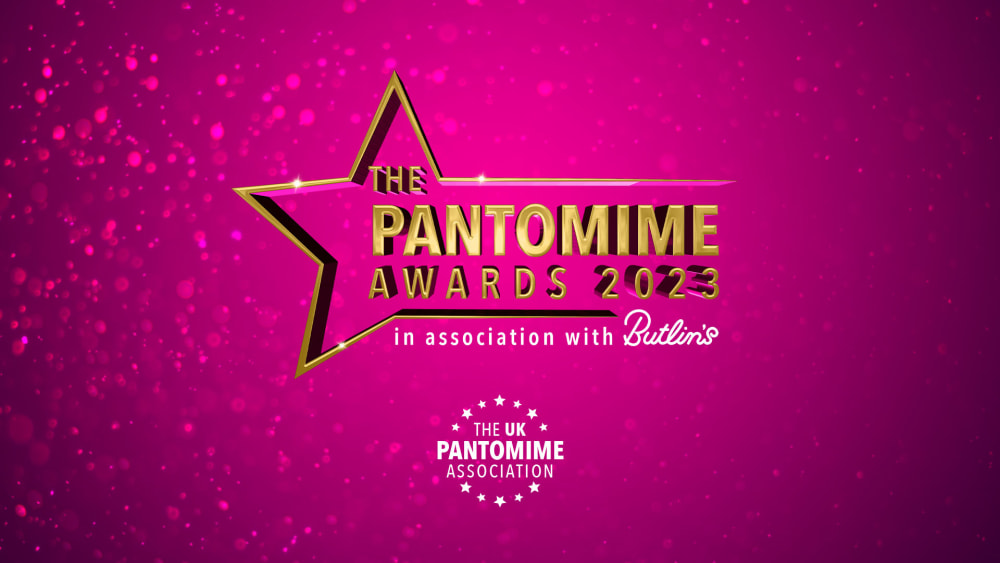 The UK Pantomime Association will announce the winners of this year's Pantomime Awards at a ceremony in London on 11 April.
Chosen from a shortlist drawn up by 64 judges who attended performances in over 240 venues across the UK, the non-gendered awards recognize excellence across the specialist performances such Best Sister and Best Villain, and of course Best Dame, as well as director and the technical and creative disciplines.
Hosting the sparkly awards event at Trafalgar Theatre in London is the inimitable Christopher Biggins who will preside over live performances, the appearance of celebrity presenters and the giving out of awards.
The Chair of the UK Pantomime Association, British Theatre Guide's own Simon Sladen, said "after what for many venues was a record breaking pantomime season in 2022 / 2023, we can't wait to celebrate the wide array of excellence in the genre at The Pantomime Awards this April. Pantomime is one of the most exciting, vibrant forms of theatre, entertaining millions of people each festive season. Thank you to everyone who brings the pantomime magic to the stage and good luck to all of this year's nominees!"
The Pantomime Awards 2023 are presented in association with Butlin's with a limited number of tickets on public sale.
The Award nominations are:
Best Choreography
Eddie Slattery – Beauty and the Beast, Swansea Grand Theatre, Swansea (Imagine Theatre)
Josie Lee – Dick Whittington, Octagon Theatre, Yeovil (Evolution Productions)
Karen Bruce – Jack and the Beanstalk, London Palladium, London (Crossroads Pantomimes)
Kerry Blaskett-Weatherall – Peter Pan, Regent Theatre, Ipswich (Enchanted Entertainment)
Stillie Dee – Jack and the Beanstalk, Alhambra Theatre, Bradford (Crossroads Pantomimes)
Best Comic sponsored by Santa Himself
Adam C Booth – Cinderella, Grand Opera House, Belfast (Crossroads Pantomimes)
Adam Colbeck-Dunn – Cinderella, Palace Theatre, Newark (Jordan Productions)
Gavin Jon Wright – Sleeping Beauty, The Gaiety, Ayr (In-House)
Matt Slack – Dick Whittington, Birmingham Hippodrome, Birmingham (Crossroads Pantomimes)
Ruby Ablett – Dick Whittington, Cambridge Arts Theatre, Cambridge (In-House)
Best Costume Design
Adrian Gee – Robin Hood, Theatr Clwyd, Mold (In-House)
Becky Minto – Jack and the Beanstalk, Perth Theatre, Perth (In-House)
Dawn Allsopp – The Legend of Robin Hood, Theatre Royal Bury St Edmunds, Bury St Edmunds (In-House)
James Button – Cinderella, Salisbury Playhouse, Salisbury (In-House)
Jasmine Swan – Beauty and the Beast, Mercury Theatre, Colchester (In-House)
Best Dame sponsored by Trafalgar Entertainment
Ben Roddy – Sleeping Beauty, Marlowe Theatre, Canterbury (Evolution Productions)
Brian James O'Sullivan – Maw Goose, Macrobert Arts Centre, Stirling (In-House)
Clive Rowe – Mother Goose, Hackney Empire, London (In-House)
JP McCue – Cinderella, Royal Spa Centre, Leamington Spa (Imagine Theatre)
Phylip Harries – Robin Hood, Theatr Clwyd, Mold (In-House)
Best Director
Darren O'Sullivan – Cinderella, South Holland Centre, Spalding (Polka Dot Pantomimes)
Estelle van Warmelo – Beauty and the Beast, The Courtyard, Hereford (In-House)
Kathryn Rooney – Beauty and the Beast, King's Theatre, Glasgow (Crossroads Pantomimes)
Paul Hendy – Sleeping Beauty, Marlowe Theatre, Canterbury (Evolution Productions)
Tamara Harvey – Robin Hood, Theatr Clwyd, Mold (In-House)
Best Ensemble sponsored by Stagecoach
Briana Craig, Ediz Ibrahim, Grant Thresh, Demi Leigh Foster, Megan Louch, Maxwell Trengove, Belle Kizzy Green, Ciro Lourencio Meulens, Zinzile Tshuma, Sally Jayne Hind, Alexandra O'Reilly, Jaydon Vijn, Emma Hunter, Andrew Lyle-Pinnock, Luke Woollaston and Lauren Stroud – Jack and the Beanstalk, London Palladium, London (Crossroads Pantomimes)
Grace Faulkner, Jack Trafford, Lucy Stewart, Molly Thorpe Franklin, Callum Fairfield, Lucy Deakin and Georgia Murray – Goldilocks and the Three Bears, Epstein Theatre, Liverpool (Regal Entertainments)
Kieran Lynch, Caitlin Mae and Charlotte Jean Moore – Snow White, Palace Theatre, Kilmarnock (Imagine Theatre)
Leo Burke, Nick Pack, Sophie Spencer, Daisy Ewing and Adam Russell-Owen – Cinderella, The Arts Centre, Hounslow (The Arts Centre Hounslow with Ashby Pantomimes)
Mairi Barclay, Adam Brown, Gabriel Fleary, Becca Francis, Shailan Gohil, Richard Leeming, Genevieve Nicole and Laura Tyrer – Mother Goose, Duke of York's Theatre (Ambassador Theatre Group)
Best Lighting Design sponsored by Production, Light & Sound
Ben Cracknell – Cinderella, Grand Opera House, Belfast (Crossroads Pantomimes)
Bev Paskell – Cinderella, South Holland Centre, Spalding (Polka Dot Pantomimes)
Jamie Corbidge – Beauty and the Beast, Swansea Grand Theatre, Swansea (Imagine Theatre)
Kathryn Monkton – Dick Whittington, Octagon Theatre, Yeovil (Evolution Productions)
Sally Ferguson – Dick Whittington, Nottingham Playhouse, Nottingham (In-House)
Carmen Silvera Award for Best Magical Being
Danielle Jam – The Pantomime Adventures of Peter Pan, His Majesty's Theatre, Aberdeen (Crossroads Pantomimes)
Jo Osmond – Beauty and the Beast, Theatre Severn, Shrewsbury (Evolution Productions)
Joe McElderry – Cinderella, Newcastle Theatre Royal, Newcastle upon Tyne (Crossroads Pantomimes)
Lauren Azania – Cinderella, Lighthouse, Poole (In-House)
Leonardo Vieira – Aladdin, Devonshire Park Theatre, Eastbourne (Jordan Productions)
Best Contribution to Music sponsored by Howden Insurance Brokers
Emma Fraser – Dick Whittington, Octagon Theatre, Yeovil (Evolution Productions)
Miles Russell – Jack and the Beanstalk, The Hexagon, Reading (Imagine Theatre)
Philip Shute – Cinderella, Grand Opera House, Belfast (Crossroads Pantomimes)
Rob Green – Red Riding Hood, Everyman Theatre, Liverpool (In-House)
Tayo Akinbode – Robin Hood, Theatr Clwyd, Mold (In-House)
Best Early Career Newcomer sponsored by Staffordshire University
Eliza Walker – Peter Pan, Regent Theatre, Ipswich (Enchanted Entertainment)
Ewan Grant – The Legend of Robin Hood, Theatre Royal Bury St Edmunds, Bury St Edmunds (In-House)
Katsie Fong Frydenberg – Jack and the Beanstalk, The Hexagon, Reading (Imagine Theatre)
Nay-Nay – Snow White and the Seven Dwarfs, New Theatre, Cardiff (Crossroads Pantomimes)
Neha Eapen – Cinderella, Carriageworks Theatre, Leeds (Paul Holman Associates)
Best Newcomer to Pantomime sponsored by Staffordshire University
Ada Campe – Dick Whittington and his Cat, The Theatre, Chipping Norton (In-House)
Carrie Hope Fletcher – Sleeping Beauty, Marlowe Theatre, Canterbury (Evolution Productions)
Finlay McKillop – Rapunzel featuring Puss in Boots, Webster Memorial Theatre, Arbroath (In-House)
Gigi Zahir – Cinderella, Theatre Royal Stratford East, London (In-House)
Vernon Kay – Cinderella, Wycombe Swan, High Wycombe (Imagine Theatre)
Barbara Windsor Award for Best Principal Lead
David Ribi – The Further Adventures of Peter Pan, Fairfield Halls, Croydon (UK Productions)
Harry Goodson-Bevan – Robin Hood, Saffron Hall, Saffron Walden (KD Theatre Productions)
Jasmine Triadi – Cinderella, Salisbury Playhouse, Salisbury (In-House)
Kia-Paris Walcott – Cinderella, Grand Opera House, Belfast (Crossroads Pantomimes)
Louis Gaunt – Jack and the Beanstalk, London Palladium, London (Crossroads Pantomimes)
Best Script
Anton Benson, Ryan Greaves and Steve Moorewood – Jack and the Beanstalk, Northwich Memorial Court, Northwich (Anton Benson Productions)
Chris Hannon – The Legend of Robin Hood, Theatre Royal Bury St Edmunds, Bury St Edmunds (In-House)
Joyce Branagh – Jack and the Beanstalk, South Hill Park Arts Centre, Bracknell (In-House)
Lyndsay Maples – Beauty and the Beast, The Courtyard, Hereford (In-House)
Nick George – Cinderella, Carriageworks Theatre, Leeds (Paul Holman Associates)
Best Secondary Lead
Amy Conachan – Maw Goose, Macrobert Arts Centre, Stirling (In-House)
Keaton Guimarães-Tolley – Red Riding Hood, Everyman Theatre, Liverpool (In-House)
Lewes Roberts – Snow White, Alive Corn Exchange, Kings Lynn (Jordan Productions)
Ohaana Greaves – The Further Adventures of Peter Pan, Fairfield Halls, Croydon (UK Productions)
Sydnie Hocknell – Jack and the Beanstalk, Queen's Theatre, Barnstaple (RED Entertainment)
Best Set Design
Becky Minto – Jack and the Beanstalk, Perth Theatre, Perth (In-House)
James Button – Robin Hood, Northcott Theatre, Exeter (In-House)
Mark Walters, Nina Dunn and Matt Brown – Beauty and the Beast, Swansea Grand Theatre, Swansea (Imagine Theatre)
Michelle Marden and Stuart Relph – Jack and the Beanstalk, Lyceum Theatre, Sheffield (Evolution Productions)
Victoria Spearing – Jack and the Beanstalk, South Hill Park Arts Centre, Bracknell (In-House)
Best Sisters
Allie Dart and Frances Knox – Cinderella, The Arts Centre, Hounslow (The Arts Centre Hounslow with Ashby Pantomimes)
Andrew Pollard and Alim Jadavji – Cinderella, Lighthouse, Poole (In-House)
Anna Phylactic and Aaron Steadman – Cinderella, Carriageworks Theatre, Leeds (Paul Holman Associates)
Garnon Davies and Gareth Mitchell – Cinderella, South Holland Centre, Spalding (Polka Dot Pantomimes)
John McGlone and Roy McGregor – Cinderella, Motherwell Theatre, Motherwell (Spillers Pantomimes)
Best Sound Design
Conrad Kemp – Cinderella, St Helens Theatre Royal, St Helens (Regal Entertainments)
David Hart – Aladdin, Waterside Theatre, Aylesbury (UK Productions)
James Cook – Aladdin, Derby Arena, Derby (Little Wolf Entertainment)
Matthew Williams – Robin Hood, Theatr Clwyd, Mold (In-House)
Mike Thacker – Jack and the Beanstalk, The Hexagon, Reading (Imagine Theatre)
Best Supporting Artist
Anna-Jane Casey – Mother Goose, Duke of York's Theatre (Ambassador Theatre Group)
Dan Badrick – Cinderella, New Theatre Royal, Lincoln (In-House)
Katy Dean – The All New Adventures of Peter Pan, The Hawth, Crawley (Evolution Productions)
Kevin Macleod – Beauty and the Beast, Alhambra Theatre, Dunfermline (In-House)
Rob Madge – Jack and the Beanstalk, London Palladium, London (Crossroads Pantomimes)
Best Villain sponsored by Breckman & Company
Ben Locke – Robin Hood, Theatr Clwyd, Mold (In-House)
Chris Chilton and Hannah Nuttall – Dick Whittington, Theatre Royal Wakefield, Wakefield (In-House)
Davood Ghadami – Aladdin, Waterside Theatre, Aylesbury (UK Productions)
Jodie Jacobs – Jack and the Beanstalk, Lyric Hammersmith Theatre, London (In-House)
Timothy Lucas – Goldilocks and the Three Bears, Epstein Theatre, Liverpool (Regal Entertainments)
Best Pantomime (Under 500 seats) sponsored by Butlin's
Cinderella, South Holland Centre, Spalding (Polka Dot Pantomimes)
Cinderella, The Arts Centre, Hounslow (The Arts Centre Hounslow with Ashby Pantomimes)
Goldilocks and the Three Bears, Epstein Theatre, Liverpool (Regal Entertainments)
Robin Hood, Theatr Clwyd, Mold (In-House)
The Legend of Robin Hood, Theatre Royal Bury St Edmunds, Bury St Edmunds (In-House)
Best Pantomime (500–900 seats) sponsored by Butlin's
Cinderella, Lighthouse, Poole (In-House)
Dick Whittington, Nottingham Playhouse, Nottingham (In-House)
Dick Whittington, Octagon Theatre, Yeovil (Evolution Productions)
Mother Goose, Duke of York's Theatre (Ambassador Theatre Group)
Snow White, Palace Theatre, Kilmarnock (Imagine Theatre)
Best Pantomime (Over 900 seats) sponsored by Butlin's
Beauty and the Beast, Swansea Grand Theatre, Swansea (Imagine Theatre)
Cinderella, Grand Grand Opera House, Belfast (Crossroads Pantomimes)
Cinderella, Wycombe Swan, High Wycombe (Imagine Theatre)
Jack and the Beanstalk, Lyceum Theatre, Sheffield (Evolution Productions)
Sleeping Beauty, Marlowe Theatre, Canterbury (Evolution Productions)