The Worst of The Tiger Lillies go to Ukraine
Published: 26 March 2023
Reporter: Sandra Giorgetti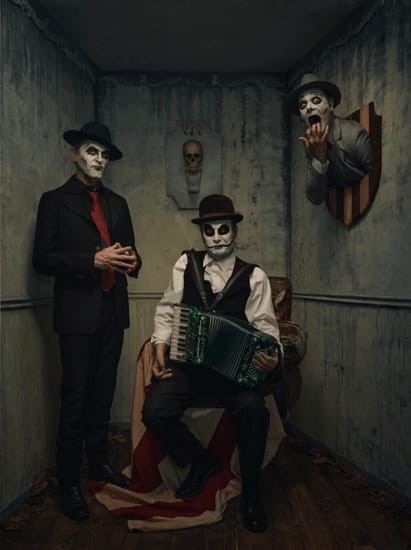 The Olivier Award-winning alternative-rock trio The Tiger Lillies are going on tour to mark the release of their new album.
With their signature darkly eccentric humour, this collection, The Worst of The Tiger Lillies, is their "best of" album and the concert will include songs such as "Roll Up", "Danced All Night" and "Boatman" that the oft-called 'godfathers of alternative cabaret' have not played in years.
They visit Ukraine as part of the European tour, one of the first bands to play there since the invasion by Russia.
The UK dates for The Tiger Lillies' From the Circus to the Cemetery tour are:
4 May – Oxford Playhouse
5 May – Milton Keynes The Stables
6 May – Stockton The Arc
11 May – Bury Edmunds Apex
12 May – Norwich Theatre
13 May – Cambridge Junction
18 May – Nottingham Playhouse
20 May – Albans Arena
21 May – Taunton Brewhouse
26 May – Manchester Home
27 May – Leeds City Varieties
28 May – Liverpool Epstein Theatre
1 June – Brighton Old Market
2 June – Brighton Old Market
3 June – London Cadogan Hall
4 June – Wimborne Tivoli Theatre
9 June – Portsmouth New Theatre
10 June – Bristol Redgrave Theatre