Theatr Clwyd takes another step forward
Published: 8 May 2022
Reporter: Sandra Giorgetti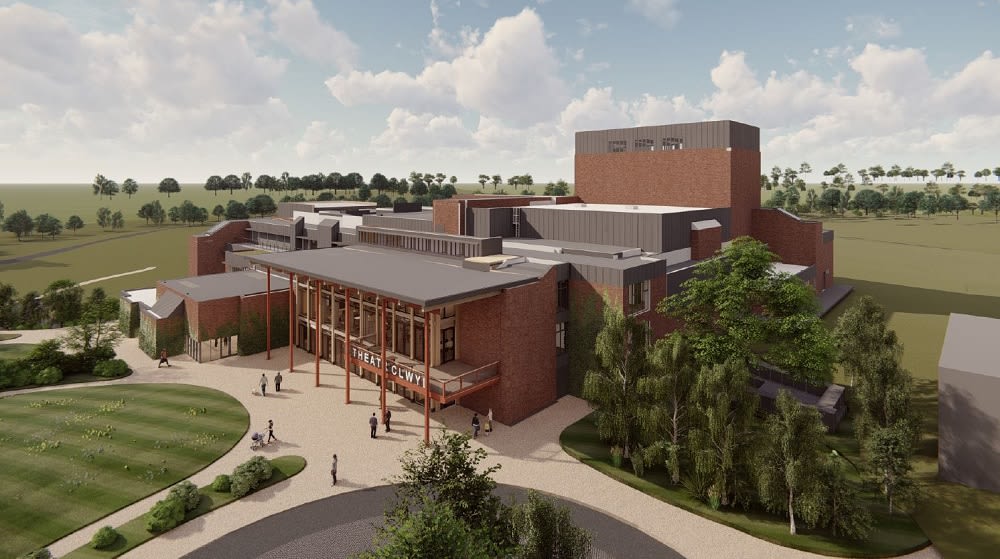 North Wales's Theatr Clwyd got closer to its £5m fundraising target for its redevelopment having received four significant donations:
£1.5 million from The Moondance Foundation
£0.5 million from The Wolfson Foundation
£0.5 million from the Garfield Weston Foundation
£0.5 million from an anonymous local philanthropist
The Moondance Foundation gift makes Theatr Clwyd the recipient of the largest ever single-gift made to an arts organisation in Wales.
The first major work to be done on the building in 46 years is being undertaken after extensive community consultation and has been designed by award winning architects Haworth Tompkins.
The capital redevelopment project on the Grade II-listed building will provide a more efficient, greener state-of-the-art building with new services, an improved visitor experience, spaces for community engagement events and enhanced income-generating facilities.
At the same time it will bring social, economic and cultural benefits to the area.
Whilst the building work is taking place continuing the theatre's award-winning community work and youth programmes, including projects with at risk young people and those with dementia, been made possible by a donation of £300,000 from the Esmée Fairbairn Foundation.
Theatr Clwyd's executive director Liam Evans-Ford said, "when we started on this capital journey in 2017, we were told it was unlikely we would raise more than £2m of private investment for a theatre in Wales. Due to the generous support of these lead funders, we have already reached £3m. This is an empowering vote of confidence for Theatr Clwyd, our values, the quality of our theatre making, and our deeply important community work.
"It also means we take another step towards delivering a world class home for our company members and communities, and offers another reason for arts in Wales to be proud for generations to come. We look forward to working in partnership with these brilliant lead funders over the coming years to deliver significant impact for their investment in our journey."
The project has also received public funding from Welsh Government, the Arts Council of Wales and Flintshire County Council.
Theatr Clwyd is a registered charity and Wales's biggest producing theatre, counting amongst its many successes the National Theatre co-production Home, I'm Darling which won the Olivier Award for Best New Comedy and the UK Theatre Award-winning musical The Assassination of Katie Hopkins.
As one of only four theatres in the UK to build sets and props, make costumes and paint scenery in-house, the venue nurtures skills and talent year round as well as running an artist development programme, trainee technicians' scheme and an eighteen-month traineeship for directors.
Theatr Clwyd won The Stage's Regional Theatre Of The Year Award in 2021.