Theatres Beyond the Stage—Regional reconnection
Published: 23 October 2022
Reporter: Sandra Giorgetti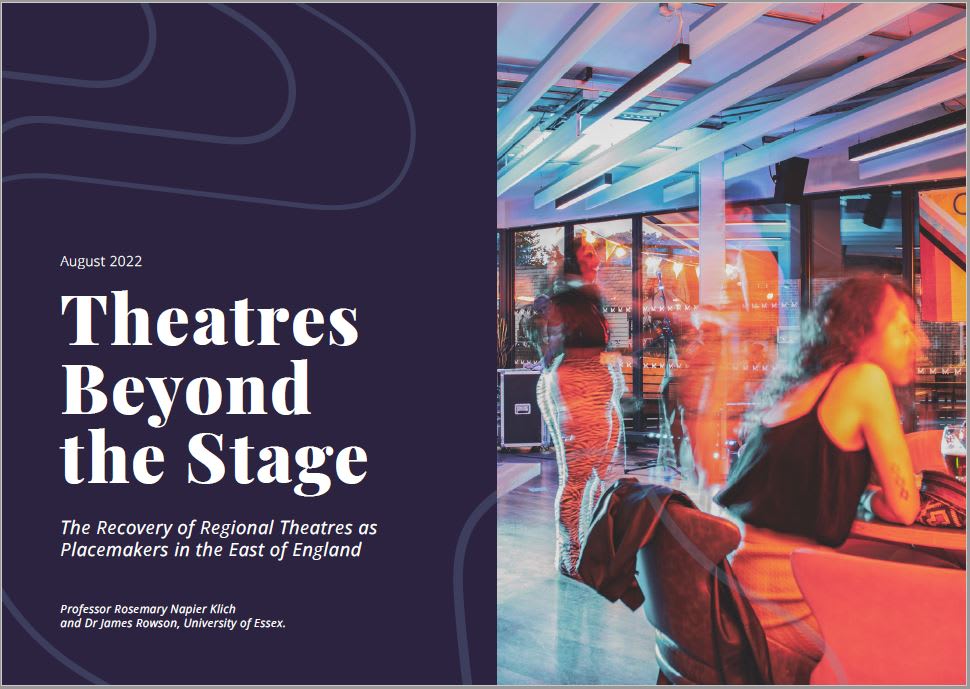 Mercury Theatre Colchester, New Wolsey Theatre Ipswich and Queen's Theatre Hornchurch have worked with Professor Klich and postdoctoral researcher Dr James Rowson from East 15 Acting School, University of Essex to take a snap shot of the position of regional theatre.
The report, Theatres Beyond the Stage , looks at the role of theatres in their community post pandemic, exploring the challenges faced by the venues and their audiences.
Mathew Russell of Queen's Theatre Hornchurch described the research as "invaluable" saying that it "gives us fascinating insights into the range of, sometimes contradictory and never simple, new context about audiences in the current complex times. It's becoming an essential reference as we navigate the way we respond to fresh challenges."
Based on interviews and survey responses from over 2,000 theatregoers, the report paints a picture of the subtleties around 'lost audiences' and tempting them back into theatres.
Audience attitudes are found to remain changed by the pandemic with a section of those who identified as pre-COVID regular theatregoers not returning citing health concerns, financial constraints and "falling out of the habit" as reasons.
For these respondents, the picture looks poor with one third uncertain even as to when or whether they would return. An equal number are somewhat or very unlikely to see two productions in the next six months.
Professor Klich said, "survey responses suggest the most important factor influencing the return of these 'lost audiences' will be programming, but focus groups reveal a more nuanced picture.
"For many, it is simply about the disruption of the pandemic impacting their desire to return and a feeling that they are yet to rediscover this cultural and social aspect of their lives. Our findings will support theatres in finding new and innovative ways to re-engage these audiences."
Mercury Theatre's Steve Mannix spoke of audiences not yet at pre-pandemic levels, saying, "the impact of the pandemic is still with us as we now face the cost of living crisis. We want to signal to audiences that theatres in the region are still the welcoming and friendly spaces that they've always been and we're working even harder to create fantastic experiences."
At the same time as showing audience hesitancy, the study reveals loyal audience members have been supportive with an association between the frequency of people in this group visiting their theatre and their sense of identity to their local community, evidencing theatres' role in rebuilding communities.
New Wolsey Theatre's Douglas Rintoul said, "although NWT has just had the most successful show in the history of the organisation, the insight helps to confirm trends we have already noticed but more importantly shines a light on the nuance and complexity to barriers to returning audiences. This now acts as a lens influencing programming and communication choices and galvanises our objectives around digital access and audience development."
The picture is not entirely bleak with Theatres Beyond the Stage also providing evidence of 'new audiences' emerging as a result of regional theatres' efforts to attract them, and by those motivated by trying a new experience and supporting arts organisations.