Verona arrives in Nottingham in four-company collaboration
Published: 11 March 2012
Reporter: Steve Orme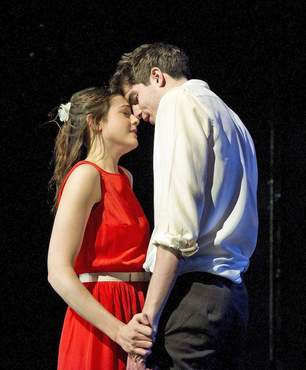 Nottingham Playhouse's "modern and theatrically inventive" co-production of Shakespeare's Romeo and Juliet arrives in the East Midlands this week.
Robert Icke directs Shakespeare's great tragedy of family feuds and forbidden love which has been co-produced with Headlong Theatre, the Nuffield Southampton and in association with Hull Truck Theatre. Giles Croft, Nottingham Playhouse's artistic director, is looking forward to welcoming the show.
"Over the years Nottingham Playhouse has made first-class work with a number of major British companies and in this production we're delighted to be working for the first time with three new partners.
"Romeo and Juliet has long been the source material for ambitious re-workings and in this production we're so pleased to present Robert Icke's imaginative approach which brings a contemporary look that stimulates and surprises.
"It's already been received very warmly, with audiences around the country enthusiastic in their response. We're proud that the name of Nottingham Playhouse is being promoted with such excellent work."
Romeo and Juliet runs in Nottingham from Tuesday (13 March) until Saturday, 24 March.
During the run the Playhouse will be working with The Mouthy Poets, a diverse range of people from all walks of life who meet weekly and "are united in their love of spoken and unspoken language".
In the first collaboration of its kind, the Playhouse has invited them to entertain audiences with a variety of events before each performance of Romeo and Juliet.
The Mouthy Poets will mingle with the audience in the foyers and stimulate them with group pieces and solo ventures.