Romeo and Juliet
William Shakespeare
The Nuffield, Southampton, Headlong Theatre and Nottingham Playhouse in association with Hull Truck Theatre
Salisbury Playhouse
–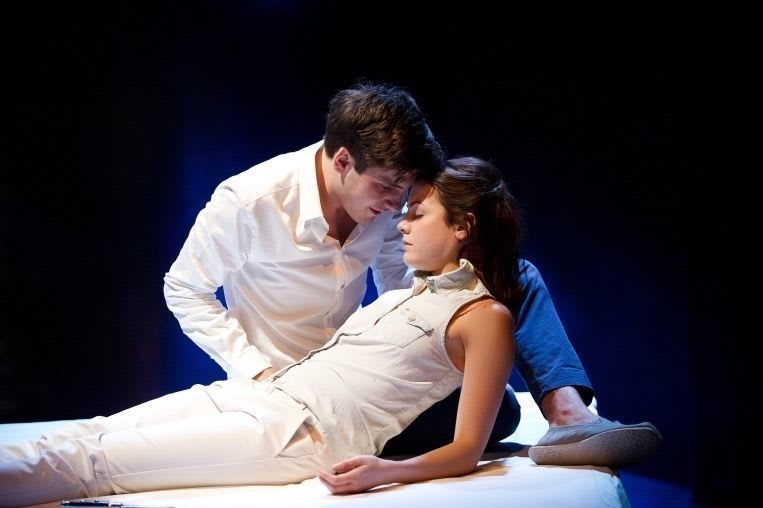 Heavy mist shrouded Salisbury Playhouse as I left the theatre following a performance of Headlong Theatre's Romeo and Juliet.
Not unlike the confusion which enveloped me as the first act of Robert Icke's radical reinterpretation of this famous classic unfolded.
Headlong, I daresay, are almost as famous for radical reinterpretation as Shakespeare is for his beautiful verse. And more of that anon.
But while many of us are familiar with imaginative approaches to Shakespeare and some are even accustomed to rolling around the college floor as Elizabethan trees, I worry about those members of the audience who have not seen Romeo since their halcyon days at school when the master insisted we read the stuff in turn!
The immediate effect of Icke's certainly adventurous production is to persuade me I didn't know the play half as well as I thought and even wonder at moments if it was indeed Romeo and Juliet? Only moments however, and they pass swiftly. As when we reached the "balcony scene" and things began to fall into place.
Yet if the experience was distinctly hairy even for one who goes around looking for productions like this, I felt for my companion, wearing new glasses which did nothing for his comprehension of a play he studied closely at school.
Helen Goddard's two-storey setting gives the impression of a cinema though it soon proves crucial to the integrity of the performance. I am less happy about the value of the blasts of bright light as my eyes shut tight whenever they appeared, nullifying whatever effect they were meant to convey.
The notable feature of this production is the vocal attack on the text sustained by most of the players, noticeably early on Keith Bartlett as a particularly aggressive Capulet. Unfortunately there is a strong reginal accent which, while no disadvantage to the role, means that we sometimes lose the detail of his text. Volume does not always foster clarity.
In this context it is true to say that all performances in this adventurous production are strong, with particular credit to Brigid Zengani as a thoughtful nurse, Tungi Lucas (Paris) with Caroline Faber giving a sensitive performance ast Lady Capulet and Simon Coates as an excellent Friar.
Catrin Stewart's Juliet is particularly fine in looks and bearing and she reveals a wilfulness which is as remarkable as it is rare. Her only hint of serious flaw is a tendency to shout—something which does not best project the wonderful verse with which Shakespeare has blessed her character.
Daniel Boyd's Romeo is arguably the most Shakespearian performance of the evening with more than a hint of real passion without losing the essential style of the role.
Romeo and Juliet is a co-production between The Nuffield, Southampton, Headlong Theatre and Nottingham Playhouse in association with Hull Truck Theatre.
Reviewer: Kevin Catchpole