What's on in the Midlands
Published: 7 May 2022
Reporter: Steve Orme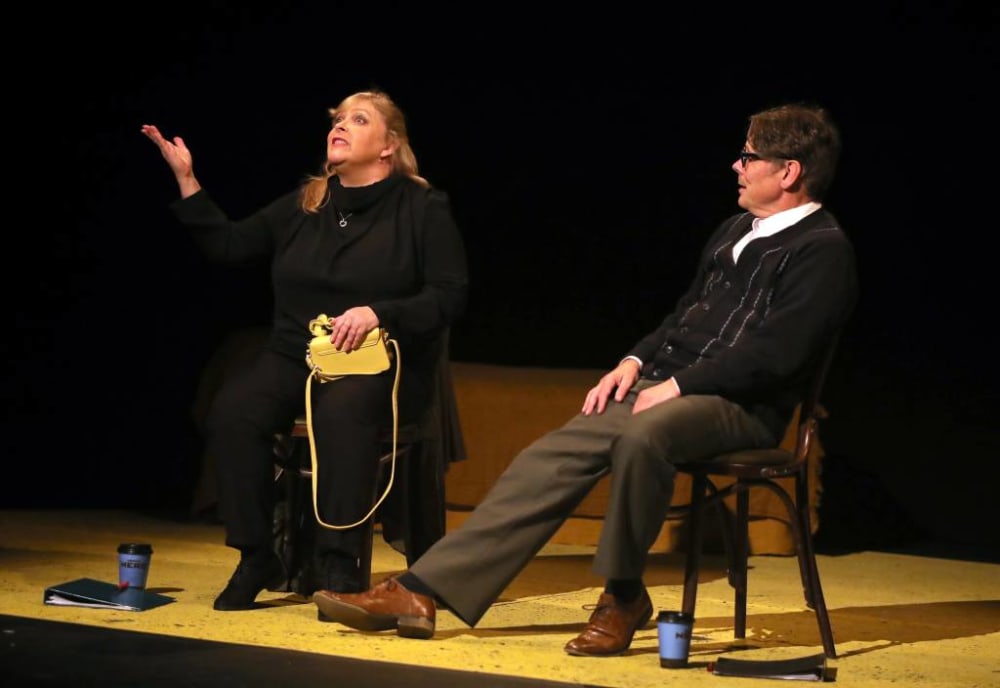 Tall Stories takes Mouse on a daring adventure through a deep, dark wood in its musical adaptation of Julia Donaldson and Axel Scheffler's The Gruffalo at the Theatre Royal, Nottingham from Monday until Wednesday while Rumpus Theatre Company presents Whistle, and I'll Come to You!, based on M R James's classic ghost story, from Thursday until Saturday;
In the Royal Concert Hall, Strictly Come Dancing: the Professionals displays the "glitz, glamour, sequins and sparkle" of the television show on Tuesday.
Jeremy Edwards heads the cast of Dead Lies, a "fast-moving, hard-hitting political English thriller" by crime novelist Hilary Bonner, at the Pomegranate Theatre, Chesterfield from Tuesday until Thursday before Vortice Dance Company performs its own version of Bram Stoker's Dracula on Friday.
An "uplifting, funny and empowering play about forging friendships when you're a bit weird", Sarah Middleton's Shewolves aims to be a howling success at Derby Theatre on Tuesday and Nottingham Playhouse on Saturday while Derby Theatre welcomes Freckle Productions and Rose Theatre's adaptation of Julia Donaldson and Axel Scheffler's Zog and the Flying Doctors on Wednesday and Thursday.
Simon Reade's adaptation of Michael Morpurgo's Private Peaceful tours to Malvern Theatres from Tuesday until Saturday.
Tim Marriott performs Watson: The Final Problem, a Sherlock Homes play which tells the story of Moriarty from the perspective of Dr Watson, at the Assembly Festival Garden, Little Park Street, Coventry from Tuesday until Saturday.
Birmingham Rep's production of GrimeBoy, written by the city's poet laureate Casey Bailey, which follows friends and adversaries through Birmingham's grime music scene, tours to SENSE Touchbase Pears on Tuesday, West Bromwich Library on Wednesday, Free@Last, Nechells on Thursday, Newhampton Arts Centre on Friday, Old Print Works, Balsall Heath on Saturday and Tipton Muslim Community Centre on Sunday.
Written and performed by Alexis Gregory, Riot Act takes audiences on a "wild ride through six decades of queer history" in The Door at Birmingham Rep on Thursday.
Fifth Word and Nottingham Playhouse present James Fritz's Lava, a "funny, tender and moving story about friendship and reconnection in the aftermath of a catastrophe", at Nottingham Playhouse on Thursday and The Door at Birmingham Rep on Friday and Saturday.
Inspired by the story of Tottenham community leader and businesswoman Gina Moffatt who created her own floristry business while in Holloway prison, Emma Dennis-Edwards's one-woman show Funeral Flowers featuring Sarel Madziya tours to Nottingham Playhouse on Friday.
As part of a week-long residency at Birmingham Rep, Birmingham Royal Ballet stages An Evening of Music and Dance including the Bluebird pas de deux from The Sleeping Beauty on Friday and Saturday.
An adaptation by Emma Earle, Zoe Squire, Luke Bateman and Richy Hughes of Kes Gray and Jim Field's best-selling books, Oi Frog and Friends! leaps into the B2 auditorium at the Belgrade Theatre, Coventry on Friday and Saturday.
Prepare for "joy and sadness, laughter and tears and surprises around every corner" in Rhubarb Theatre's Dustbin Doris in the Squire Performing Arts Centre, Nottingham on Saturday.
Audiences at Birmingham Hippodrome will say thank you for the music when they see Mamma Mia!, written by Catherine Johnson with music by Benny Andersson and Bjorn Ulvaeus, which continues until Saturday.
Women and Theatre celebrates women's cricket being part of the Commonwealth Games for the first time in A Thousand Threads, presented as part of the Birmingham 2022 Festival, at Selwyn Road Playing Fields, Birmingham on Sunday.
Inspired by football abuse scandals, a new play by Nathaniel Price, First Touch, continues at Nottingham Playhouse until Saturday 21 May.
The final production in the Belgrade Theatre's programme of work for Coventry UK City of Culture 2021 is the world première of Nothello, written and devised by Mojisola Adebayo, William Shakespeare and Justine Themen, which continues until Saturday 21 May.
A "witty and fleet-footed version of the tale that updates the literary masterpiece while remaining true to the original's revolutionary spirit", Chris Bush's adaptation of Charlotte Brontë's Jane Eyre, a co-production between Newcastle-under-Lyme's New Vic Theatre and the Stephen Joseph Theatre, Scarborough continues at the New Vic until Saturday 28 May.
Henry VI: Rebellion, which "hurtles through one of the most turbulent periods in English history," continues in the Royal Shakespeare Theatre, Stratford until Saturday 28 May while The Wars of the Roses, a "thrilling climax to Shakespeare's three-part Henry VI saga of nationhood and power", continues until Saturday 4 June.
Related listings

Mamma Mia - Music and lyrics by Benny Andersson and Björn Ulvaeus, book by Catherine Johnson