Jane Eyre
Chris Bush, adapted from the novel by Charlotte Brontë
Stephen Joseph Theatre and New Vic Theatre, Newcastle-under-Lyme
Stephen Joseph Theatre, Scarborough
–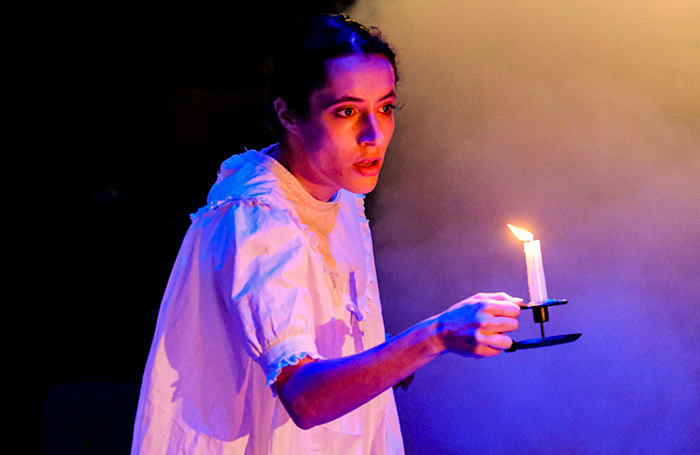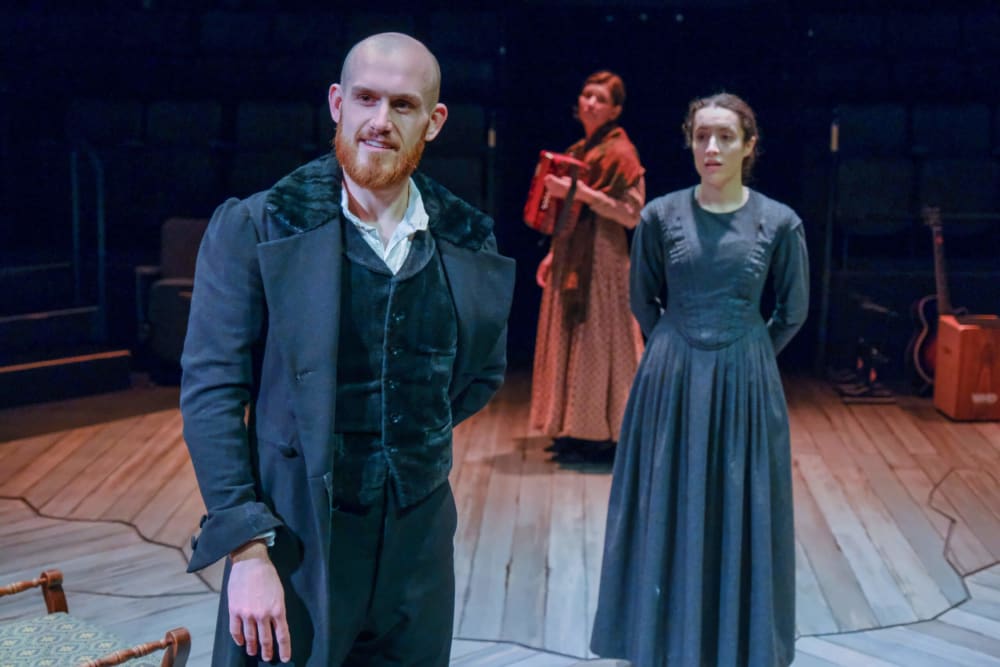 Over the years, I have seen a plethora of Jane Eyres, encompassing the worlds of film, television and theatre. However, with the exception of the BBC's terrific 2006 mini-series starring Ruth Wilson and Toby Stephens, all of my favourite retellings of Charlotte Brontë's 1847 novel have taken place on stage.
It's not that long ago since Sally Cookson's ambitious, large-scale production of Jane Eyre was performed at the National; subsequently, the play toured across the country and was then made available to the public via YouTube during lockdown. So director Zoë Waterman and adaptor Chris Bush face the double challenge of (i) bringing a beloved literary classic to the stage and (ii) contending with a well-admired, widely-seen stage production.
As a theatre-in-the-round, the Stephen Joseph doesn't allow for an ornately designed version of Jane Eyre in which the creepiness of Thornfield Hall—Rochester's isolated mansion—is conveyed through set dressing. However, one of the great benefits of this production is its increased sense of intimacy. Furthermore, the scarcity of props allowed for lightning-fast transitions between scenes, ensuring that the pace of the production never flags.
Adaptation is a tricky business with numerous pitfalls. Overall, the reliably excellent Chris Bush does a fine job of preserving the key plot elements of Charlotte Brontë's original novel whilst trimming some sections (for example, young Jane's bullying at the hands of her odious cousin) that might have taken the play past the three-hour mark. Bush is particularly good at conveying the deep affection (and erotic charge) that exists between Jane and Rochester, and this is further enhanced by the stripped-back nature of the staging.
Jane Eyre is well performed by a talented cast of six actor-musicians. Eleanor Sutton is a charismatic lead, conveying the title heroine's indomitable spirit and strong sense of justice. It was a clever idea to have Sutton double as Rochester's first wife because it allows the production to explore the idea that Bertha is Jane's distorted reflection, symbolising her repressed anger and resentment.
Equally excellent is Sam Jenkins-Shaw. Having enjoyed his performances in more light-heated fare such as The 39 Steps, it was a pleasure to see him playing a darker, more conflicted character. His Rochester is bracingly blunt, chastising his new employee at every possible moment. Together, Sutton and Jenkins-Shaw achieve the spark one would hope to see between Jane and her saturnine employer.
There is fine support from Tomi Ogbaro, Nia Gandhi, Zoë West and Sarah Groarke, who breathe life into a gallery of supporting characters.
With evocative lighting from Nao Nagai and wistful melodies courtesy of Simon Slater, this Jane Eyre is fluid, fast-paced and gripping.
Reviewer: James Ballands