World's largest arts festival goes online
Published: 13 July 2020
Reporter: David Chadderton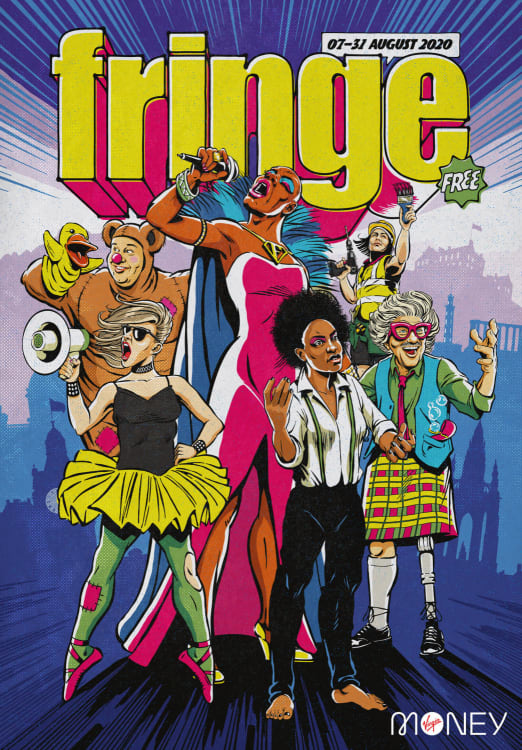 Edinburgh Festival Fringe Society has announced a 2020 digital programme, with a Crowdfunder partnership and streaming alternatives following the announcement earlier this year that the Edinburgh Festival Fringe will not be going ahead as planned this year.
A statement from the Society said, "from live-streamed performances to nostalgic throwbacks and community-focused events and support sessions, the spirit of the Fringe will live on in the work of thousands of Fringe artists and venues, and the Fringe Society will help audiences navigate them through a central listings service on edfringe.com."
There will also be a series of digital activities, including virtual shows, a festival-wide crowdfunding campaign, artist-facing workshops, a new online arts industry platform and a virtual Fringe Central.
The Society has also unveiled the artwork for the Fringe Programme cover that was never used, designed by celebrated contemporary artist Butcher Billy based on the theme of 'the heroes of the Fringe'.
Shona McCarthy, Edinburgh Festival Fringe Society Chief Executive, said, "it's hard to imagine a summer without the Fringe. The explosion of creativity and community that the festival brings every year is unparalleled, and, whilst we may not be able to provide a stage in Edinburgh in quite the same way this year, it feels hugely important that the spirit of this brilliant festival is kept alive."
She added, "the impact of COVID-19 has been devastating for the countless artists, audiences, venues, workers and small businesses that make this festival happen every year. The FringeMakers crowdfunding campaign is designed to support them, while the Fringe on a Friday live show and the Fringe Pick 'n' Mix web site aim to bring some much-needed joy to our devoted audiences both here in Scotland and all over the world."
FringeMakers is a new crowdfunding platform created by The Fringe Society and Crowdfunder to support Fringe artists and venues to raise funds in the absence of a Fringe this year. Venues and artists will be able to register as part of a central Fringe campaign, paying no fees and keeping 100% of funds donated for their own cause. Participants can offer rewards for donation, such as access to their own live-streamed shows, custom merchandise, exclusive content and more.
Crowdfunder has waived all fees for this project, and is providing tailored support, including dedicated webinars, one-to-one training for Fringe artists and venues and how-to guides. The FringeMakers platform will be launched on Monday 13 July.
As part of the FringeMakers campaign, every registered venue and artist will have the opportunity to raise money by selling tickets to a weekly 60-minute variety show, Fringe on a Friday, which will be streamed every Friday evening during the Fringe (7, 14, 21 and 28 August).
Fringe Central, usually a central place in Edinburgh for the Fringe community during August, will be recreated as a virtual space allowing artists to connect and collaborate with each other, or simply drop by and talk to a member of the Fringe Society team in real time. More than 30 digital events including panel discussions, workshops and networking sessions, exploring topics such as digital skills development and touring post-pandemic and wider industry themes such as the under-representation of creators of colour and how to make performances more accessible will be made available for free to all artists.
The Fringe Society is also launching the digital Fringe Marketplace, a dedicated showcase platform to connect arts industry delegates all over the world with tour-ready artists who were programmed as part of this year's Fringe. Sitting alongside the Marketplace will be a series of events for industry to engage with, including morning sessions with international showcases from around the world.
On 6 August, Penguin Random House Audio will release Edinburgh Unlocked, a comedy festival in audiobook format showcasing a range of well-known Fringe comedians, including Ivo Graham, Lou Sanders, Sheeps and Dane Baptiste through to emerging talent such as Glamrou, Mo Omar, Chloe Petts and SHELF.
Comedy Central International, in association with the Edinburgh Festival Fringe Society, is spotlighting ten rising comedians in 10 seven-minute stand-up episodes across Comedy Central International's Facebook, YouTube and Instagram platforms, starting on 17 August. Highlights from the digital episodes will air in a 22-minute TV special on Comedy Central UK on 28 August and also be made available internationally.