100 Plays to Save the World
Elizabeth Freestone and Jeanie O'Hare
Nick Hern Books
Released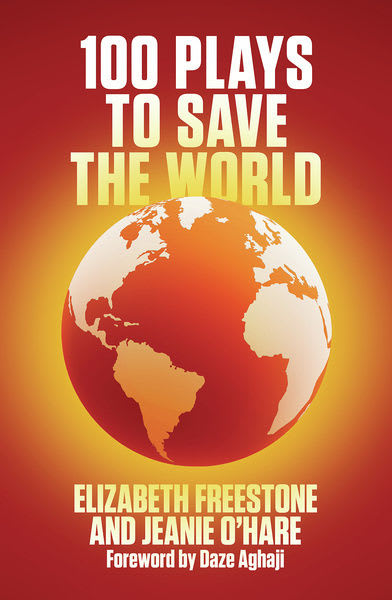 100 Plays to Save the World turns out to be an unexpected pleasure. It's initial premise sounds rather dry.
Elizabeth Freestone and Jeannie O'Hare have set out to select a century of plays with themes connected to the climate emergency.
Where they score is in providing succinct précis of 1 to 2 pages that not only give a good overview of each work but powerfully connect them to the ways in which the global powers that be seem intent on destroying our planet.
Rather than simply listing 100 plays, the authors link them by theme, breaking the series up into 12 sections that discouragingly start with Destruction but more optimistically end with Hope, along the way including topics such as Policy, Migration, Extinction and Fightback.
The writing is always cogent but urgent, making readers stop to consider not only the content of a particular play but also their own attitudes and behaviour when it comes to global warming, habitat destruction and inhumanity towards animals but also our fellow people.
The list of playwrights is both dazzling and diverse, drawn from around the world. At one end of the scale, you get the likes of Aeschylus, Shakespeare, Ibsen, Chekhov, Brecht and Beckett. Then there are the best writers of our own generation, for example Lynn Nottage, Mike Bartlett, Nick Payne and Richard Bean but also Coventry's Belgrade Youth Theatre.
In addition to finding introductions to unknown plays and reminders of some classics, readers will also learn a great deal about the climate crisis often viewed from unexpected perspectives.
100 Plays to Save the World can be a chilling read but is nevertheless both worthy and worthwhile. It is one of those books that should not merely be put on to the desks of government ministers around the world but, by whatever means necessary, read by them as a prelude to belated but very necessary action.
Reviewer: Philip Fisher