11 and 12
Adapted from the works of Amadou Hampaté Bâ by Marie-Hélène Estienne and Peter Brook
Co-commissioned by barbicanbite10, London; C.I.C.T. / Théâtre des Bouffes du Nord, Paris; Grotowski Institute, Wroclaw
Barbican Theatre and touring
(2010)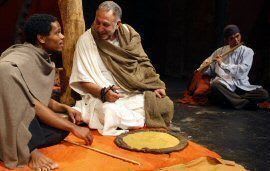 In this transfer from Paris translated into English, two innocent numbers become a metaphor for sectarian warfare in a West African tale that at times takes on an almost biblical quality.
As our narrator Amadou, played by Tunji Lucas, says at the start, in this 90 minute long performance, a bead becomes a bomb, as reason is overridden by blind faith.
He is the disciple of wise teacher and priestly sage, Makram J. Khoury as Tierno Bokar, an old man who believes in peace and honour, at whatever cost to himself.
As always with Peter Brook, the staging is simple: little more than a couple of red mats, some sand and a few barren trees occupy the large stage, together with a multi-national seven strong acting ensemble and composer Toshi Tsuchitori playing an assortment of primitive instruments from a cross-legged crouch.
This leaves much to the viewer's imagination and there is ample scope to fill in the gaps with one's own perceptions and experience in a story told largely in parables.
The gist is that through confusion, the traditional 11 repetitions of a Muslim holy prayer become 12. Two factions soon arise, increasingly belligerently supporting the old and new ways respectively.
As if this wasn't enough to cause discord in a poor community, the French colonialists inflame the situation by taking sides.
In all of this turmoil, it takes a brave man to follow his own principles heedless of the dangers of doing so and that man is Tierno Bokar.
The symbolism of this play has great resonance in a world more than half a century on but still torn asunder by religious fundamentalism and intolerance. It seems even more meaningful and moving when one discovers that what seems like a cleverly constructed story is based on real lives.
The tempo is deliberately slow and relaxed, at times too much so, but 11 and 12 is such an important work in today's troubled world that you are inevitably swept up by the drama and come out at the end with a deeper understanding of humanity and some of its inexplicable foibles.
Until 27th February
Touring to the Tramway (Glasgow), Nottingham Playhouse, Northern Stage (Newcastle) and The Rose, Kingston.
Peter Lathan reviewed this production at Newcastle.
Reviewer: Philip Fisher