12 Angry Guests
See Your City
See Your City
From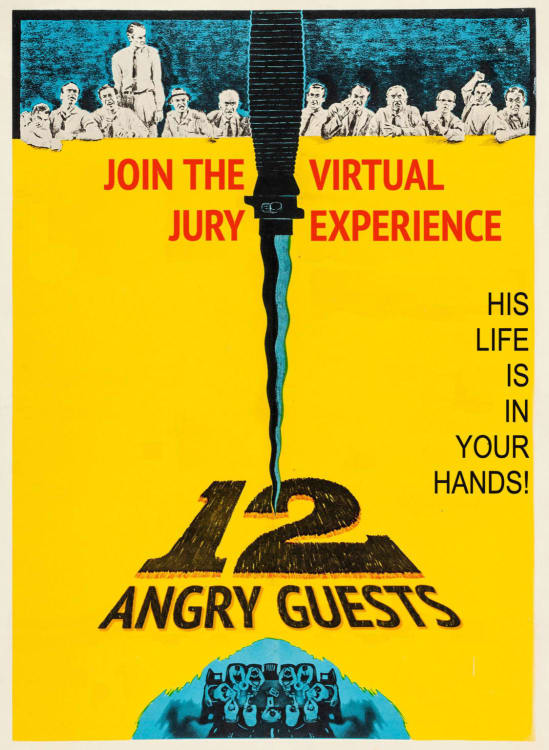 See Your City is an international company that combines virtual tours of major international cities with some online theatre events. The main attraction of presentations such as 12 Angry Guests, described as "a virtual murder mystery event", is the opportunity for members of the general public to participate and interact in real-time.
The basic plot is simple enough. In 1958, a young man named Frank Kelly Jr has been indicted for murder, accused of killing a former police chief in an apartment building in the Bronx, although, according to the publicity material, it is three blocks down from Times Square.
Either way, there is a great deal of circumstantial evidence that points to Kelly as the killer. The motivation is clear enough when we discover that the victim was behind a case that put Frank Kelly Sr into prison. The accused also has a long record of criminal activity, while his fingerprints were all over the apartment of the murdered man, he had almost certainly hidden blood-spattered clothing and a rather unreliable witness had heard an altercation.
The idea is that, individually or collectively, viewers buy tickets to become members of the jury at the New York County Supreme Court 63 years in the past. However, this is not a jury in any sense that members of the legal profession in either London or New York or even the man / woman in the street would understand.
The actors play a relatively small part, a judge acting as effective narrator, while introducing a number of witnesses who provide brief statements. In almost every instance, the 'jurors' are then allowed to interrogate the witnesses and also the accused, via Zoom. This becomes a fascinating study in character not only of the murderer, the victim and the witnesses but also members of the paying public who have invested £10 a piece to get involved.
At the showing under review, a pair of eagle-eyed young women took over the show, eager to seek out evidence that might decide the case one way or another during the relatively limited time available in a show that runs for only just over an hour. Aided by other members of the jury, they pieced together the evidence and stories, before happily volunteering to become what was effectively dual jury foreman.
It would clearly be unfair to say whether Frank Kelly Jr was found guilty or innocent but, rather unkindly once the verdict had been delivered, the producers then informed viewers of the true circumstances underlying the case, after which a unanimous decision was made to look somewhat stupid.
In reality, far too little time and evidence was available to come to a genuine conclusion but, particular for those who love interacting in crime dramas, 12 Angry Guests would be well worth a try.
The company is a very slick operation that also offers dozens of other online productions, many of which are more of the tour variety rather than virtual theatre.
Reviewer: Philip Fisher