Twelfth Night
William Shakespeare
Donmar West End
Wyndham's Theatre
(2008)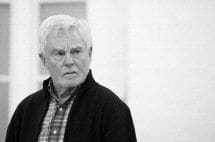 The Donmar has been well served by this ever-popular comedy of misdirected love and mistaken identity. Michael Grandage has bravely attempted to outdo his predecessor's swansong and even if he does not succeed, will undoubtedly have a success on his hands.
Like Sam Mendes, he has a tremendous cast but, rather than using home turf, has greater ambitions, having relocated to Wyndham's in order to pay the wage bills of so many big names.
Grandage has gone all out for laughs in a short, pacy version that comes in at little more than 2½ hours including the interval.
Christopher Oram has chosen a plain wooden design concept with floor, walls and large screen all of that material. This is complemented by an attractive chamber accompaniment, composed by Julian Philips on strings, but also an odd, anachronistic set of costumes that leave the intended period a mystery.
The lynchpin of the evening is the marvellous Victoria Hamilton, who plays Viola/Cesario, looking just as convincing when demonstrating the body language of a pubertal lad as she had in her initial guise of a drowned near-mermaid. Not only does she constantly amuse but, in addition, conveys the confusion of first love, made worse when you happen to be cross-dressing at the time.
In a bizarrely bardic love triangle, she perfectly balances the two nobles, Mark Bonar's heavily hungover and very maudlin Duke Orsino and his would-be bride, Olivia, who has no interest in that direction but falls head over heels for the Duke's new page. That lady is milked for every laugh going by an energetic Indira Varma.
The true comedians all come from her household with Ron Cook and Guy Henry an appropriate little and large comic double act as brash Toby Belch and bumbling Andrew Aguecheek. They are well supported by Samantha Spiro's wicked minx of a Maria and Zubin Varla who plays Feste not only as a Shakespearean wise fool but also a strolling minstrel, equally adept with guitar and attractive singing voice.
The biggest of the names though is Sir Derek Jacobi who makes Malvolio into a sneeringly disdainful 1930s butler, whose innate pride inevitably prefigures the greatest of pratfalls.
He gets many good laughs both for verbal and physical humour and this is the main source of the evening's pleasure. The false letter scene is fun, as is the ensuing sailor-style fancy dress show that repels his intended amour, much to the delight of everyone else.
The zenith occurs with Sir Derek's struggle to discover the long-forgotten smile, which half-minute could win an award on its own. Even better, it is later paralleled by blissful pre- and post-coital equivalents from Alex Waldmann, after he, playing Viola's lost twin Sebastian, strikes lucky with the lovely Olivia.
The biggest laugh of a fun-packed night though is engendered by a splendid coup de théâtre in the final scene as the protagonists begin to pair off in preparation for blissful happiness.
If there is a criticism of what is a truly enjoyable evening it might be the lack of shading, so that the play's darker moments either disappear or are subordinated to the humorous mood. Despite that, many seeking escape from recessionary pressures could find Twelfth Night the perfect remedy.
Reviewer: Philip Fisher