Twelfth Night
Toyoshige Imai, after William Shakespeare
Shochiku Grand Kabuki Company
Barbican Theatre
(2009)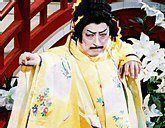 Britain can surely never have seen a stranger, nor arguably more beautifully-staged Twelfth Night than this one. Legendary Japanese directo, Yukio Ninagawa and the Shochiku Grand Kabuki Company have chosen to combine this classic comedy with the Company's traditional artistic form.
For the tastes of those brought up on Shakespeare there is a problem, as in order to meld the two, Ninagawa has committed the heresy of having the play re-written. Toyoshige Imai not only sets the tale in a very Japanese Illyria but goes further, dumbing it down and losing much subtlety and humour but also swathes of beautiful poetry.
English viewers are not helped by very sparse surtitles, which clearly miss around two-thirds of what was said, unless the Japanese use three times as many words as the man from Stratford.
In exchange, we get the chance to experience a medium rarely seen in this country performed by its finest exponents. As in Shakespeare's theatre, women were banned from acting in Kabuki and this means that men spend their lives perfecting the art of playing female roles.
Since so much of Kabuki is ritualised, the performers are not necessarily perfect replicas of the types they represent but they do have remarkable skill and an ability to convey emotions with the tiniest of hand or facial movements.
The settings by Yuichiro Kanai and costumes (which took a quartet to create) are always visually pleasing and frequently stunning, as three examples from an evening packed with beauty might demonstrate.
The early sea voyage and storm received the finest depiction imaginable, combining realism with art to great effect. On a different level, a very tiny Sir Andrew Aguecheek made a fearsome looking, if cowardly challenger to Cesario in full Samurai costume, while Malvolio's yellow mood is truly unforgettable.
He (and Feste) are played by the most famous contemporary exponent of the art, Onoe Kikugoro VII, whose sense of humour cannot be faulted and whose seriousness strangely mirrored the last man to play the part in London, Sir Derek Jacobi.
His son, Onoe Kikunosuke V, is worthy to take on the great man's mantle. He doubled Viola and Sebastian brilliantly, at his best when the young woman/man, Viola is wounded by her inability to express love for Nakamura Kinnosuke II as her baleful master, Orsino.
The evening's other star also cross-dressed, in the part of Olivia. Nakamura Tokizo V was undoubtedly the most convincing female, with impeccable body language and a female aura that seemed wholly natural.
At 3½ hours, this is a long evening but for those in love with acting of the highest class or Japanese art and music, it is a real feast.
Reviewer: Philip Fisher