Twelfth Night
William Shakespeare
Filter
Tricycle Theatre, Kilburn
(2008)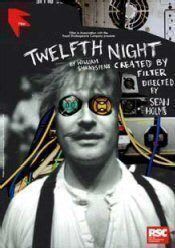 After 400 years, one sometimes wonders whether there is anything new that can be done with Shakespeare. This production, under the direction of Sean Holmes, was first seen as part of the Complete Works season in Stratford two years ago but thankfully Londoners finally get a look.
In it, Filter triumphantly prove that, while there is nothing new under the sun, at the end of an extremely wet summer every possible preconception can be thrown out of the window to great effect.
The stage is filled with musical instruments as if set out for a (rather loud) chamber recital. A bunch of youngish people hang around pretty aimlessly wearing typical actors' rehearsal clothes. During Jonathan Broadbent's opening speech as Orsino, that perennial theatrical pest, a mobile phone, went off, leading to perhaps the finest ring tone moment the stage has so far seen.
From this unlikely starting point, the company deconstructs and puts back together a much loved comedy, making it seem fresh and modern, while at the same time maintaining much of the spirit that must have delighted audiences all those centuries ago.
Most of the story is there, condensed down into only an hour and a half, including songs. The ridiculous inventiveness shown by Holmes and his ensemble rarely goes wrong as again and again, they surprise and delight an audience that at times does not know what hit them.
Just when the staging appears to be getting out of hand and drowning the story, Poppy Miller who doubles Viola and Sebastian, borrows a hat and jacket from men in the audience, plays tricks with her socks and she instantly becomes a he, Cesario.
Torn between love for Orsino and the blandishments of Syreeta Kumar's tough but smitten Olivia, she does well to hold her own.
At the same time, the only actor in Elizabethan clothing, Oliver Dimsdale, appears as a fantastic, extremely drunk Toby Belch, whose favourite tipple these days is apparently Special Brew. With assistance from an unfashionably short Andrew Aguecheek (Broadbent again) and Gemma Saunders' singing Maria he causes chaos, never more so than with the grimly disdainful Malvolio (Ferdy Roberts).
The story progresses but is also complemented by an almost infinite variety of novelties so that the audience can enjoy a singsong (mainly jazz and hard rock), ball games and a chance to sample pizza and tequila.
Amidst all the madness, the pathos and search for elusive love still shine through and there are moments of complete brilliance, never more so than when Malvolio angrily delivers his "are you mad?" speech directly to an audience that immediately becomes enveloped in collective guilt.
This is a tremendous evening that does enough justice to the original to please the RSC, while taking its audience on a modern rollercoaster ride that is truly invigorating. It even ends with a modern rendition of When That I Was and a Little Tiny Boy (With hey, ho, the wind and the rain) that will whirl around in the head for days to come.
Truly, Shakespeare was never like this. Do not miss out.
Until 27th September
Lucy Ribchester reviewed this production at the Tobacco Factory, Bristol
Reviewer: Philip Fisher